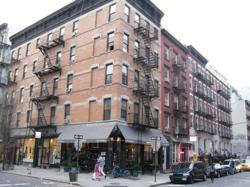 (PRWEB) December 21, 2012
As home to the famous Times Square ball drop, it should come as no big surprise that New York City is the most expensive U.S. destination in which to celebrate New Year's Eve. This distinction, based on the cost of lodging overnight there, is the takeaway from a recent survey conducted by CheapHotels.org.
The survey established the minimum amount visitors will have to spend to stay in a 3-star hotel at each of 30 U.S. destinations. In New York City, out-of-town guests will currently have to pay $376 per night for the most affordable double room. This figure easily positioned NYC in the number one slot on the survey.
And procrastinators shouldn't expect any last-minute deals either, as Barbara Adams from CheapHotels.org cautions. "Hotels in Manhattan will be virtually sold out on New Year's Eve. As a result, in a few days eleventh-hour bookers might be forced to pay as much as $500 for the cheapest available double room."
The second most expensive destination according to the survey is Memphis, Tennessee. There, at the moment, New Year's visitors will have to spend at least $309 nightly. Following New York City and Memphis in the third spot is Atlantic City. The most affordable room in this New Jersey gambling mecca will cost $299 for a New Year's Eve overnight stay.
The following table shows the 10 most expensive destinations in the United States for New Year's Eve based on lodging costs. The rates indicated reflect the price for the cheapest available double room in a centrally located, 3-star hotel.
1. New York City US$376
2. Memphis US$309
3. Atlantic City US$299
4. Honolulu US$279
5. Miami Beach US$259
6. New Orleans US$239
7. Los Angeles US$199
8. Jacksonville US$198
9. San Francisco US$192
10. Nashville US$179
For the full rankings of the survey, visit http://www.cheaphotels.org/press/new-years-eve-2012.html.