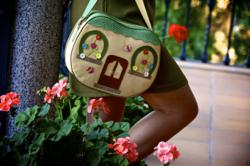 Unique European Handbags
Madrid, Spain (PRWEB) December 23, 2012
CORTTIJOS Housebags sets a new trend in the fashion industry by designing "The Housebags of  the World".
SWEET Spain Collection, presents some of the most popular and well known cities and regions from Spain, in the shape of a handbag: Madrid, Barcelona, Ibiza, Toledo and the region of Andalusia, have inspired the creative director of the brand, Mercedes Pavon.
CORTTIJOS success is based on attention to detail. All the handbags are carefully handmade one by one. 
Madrid; brings elegance and modernity. It's represented by brick houses in red and yellow colors with long narrow windows. A lovely bag-shaped desire.
 
Barcelona; the capital of art in Spain. Inspired by Antonio Gaudi's architecture. Curved shapes with contrasting green and yellow tones. A gentle stroll through the unique city of Barcelona.
Toledo is a medieval sigh, a city surrounded by magical places. Now with CORTTIJOS Housebags, you can enjoy this beautiful city walking with your handbag.
Ibiza has a distinctive Mediterranean flavor. Its bright atmosphere, the beautiful sunsets, the white-sand coves... All its energy can be felt and evoked in the bag "Sweet Ibiza".
And Andalusia. How to represent the joy of this beautiful region, people and cities?  Flowers celebrate the day in the windows of the bag "Sweet Andalusia".
After the success of Essence Spain Collection, CORTTIJOS "Housebags of the World", launches its most accessible collection to date, "SWEET". Pieces of art in the shape of a bag that do make a difference in design, innovation and quality.
Enjoy this unique collection of handbags at http://www.corttijoshousebagsofheworld.com
For further information please contact +1 347 439 8413 / +34 637 530 381 or email info(at)corttijos(dot)com.
http://www.corttijoshousebagsoftheworld.com
https://www.facebook.com/corttijos
CORTTIJOS "Housebags of the World"
Your World in your Handbag. Your Handbag in your World.