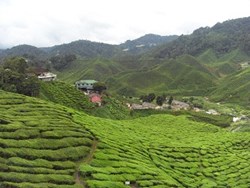 It has been quite a dilemma for the people of Cameron Highlands in recent years especially with the rapid development that they have been experiencing.
Cameron Highlands (PRWEB) December 30, 2012
The new service launches were timely as Cameron.com.my enters its tenth year in the market in providing the platform for the people of Cameron Highlands to share their views, concerns and opinions about what is happening around them.
It has been quite a dilemma for the people of Cameron Highlands in recent years especially with the rapid development that they have been experiencing. On one hand, development is very much welcomed as it will bring more tourists and visitors which in turn will increase the standard of living, create more job opportunities and give the economy a timely boost. On the other hand, too much development has created a lot of environmental concerns like landslides, dirty water and air pollution, which defeats the original intention of drawing people there.
According to Advertising.com.my, a lot of promises have not been fulfilled by the elected representatives and this is causing a lot of damages and unhappiness among the people in Cameron Highlands. The people's well-being are not protected and despite all the ambiguity, new lands are being developed without proper planning and approval from the environmental and ecological department.
Hotel Bookings and accommodation
New hotels are being built around Cameron Highlands as more and more tourists are visiting the town. From the large hotel chains to the smaller ones, there are places to stay at almost every corner of Cameron Highlands. Local business owners and entrepreneurs are turning their premises into homestays, budget accommodations and most prominently, hotels in Cameron Highlands. Cameron.com.my, in line with its objective of being the voice and platform for everyone in Cameron Highlands now provides an online Cameron hotel booking feature which will bridge the places to stay with those who are planning a trip there.
For groups of friends or families, there are also larger spaces like apartments and condominiums like the Greehill Resort Apartment and Crown Imperial Court to name a few. Both the condominiums are known for their beautiful surroundings and excellent facilities and are very conveniently located around the major commercial areas of Cameron Highlands. Apart from that, they are also affordable and offer a full range of home equipment and facilities.
Development and upcoming projects
Cameron.com.my aims to be the central point for everyone to be in the know about what is going on in the town. Among the new community sections that have been added recently is on development and upcoming projects. The most talked-about place is the Brinchang Square, which is one of the high traffic areas with convenient stores, hotels and entertainment outlets.
Other new features
Apart from the new services mentioned, Cameron.com.my also added a new section which provides the latest and most current information about Ringlet, another major town in Cameron Highlands. Accommodation choices, Cameron Highlands steamboat and eateries, properties and activities that are happening around Ringlet. Visitors can now share information about the attractions in Cameron Highlands like enjoying a steamboat in the cool weather and hundreds of meters above sea level, visiting the vegetable farms, flower plantations and many others.
Advertising and marketing
Another new feature that was launched is providing advertising and marketing services. Businesses and accommodation providers around Cameron Highlands can now use this feature to promote their products and services through an online account created specifically for them. Cameron.com.my is connected to a large network of other portals which will ensure that advertisers enjoy the widest reach among its target market. By using this service, businesses will now gain better leverage on online advertising through Cameron.com.my and its related sites.
Community Forum
As part of offering a comprehensive and complete set of services to the community in Cameron Highlands, the Cameron Highlands forum has been upgraded and enhanced to ensure better mileage and communication between the users. Issues like rampant development and land clearing, water and air pollution and any other matters that are causing problems around Cameron Highlands are now discussed among everyone in the forum.
The improved Cameron Highlands Malaysia forum now includes highlights and the channeling of latest information to the members while the relevant authorities will also be notified when an important issue is discussed. Members can also vote and create petitions so that their concerns are heard and the appropriate actions are taken to overcome these issues that they are facing. This is an action that is necessary to ensure that the elected representatives carry out the fundamental duties and responsibilities. The new features and layout in Cameron.com.my are designed by Malaysia's best designers with a sole objective which is to give the people in Cameron Highlands an accessible and easy to reach avenue to be speak up and be heard.