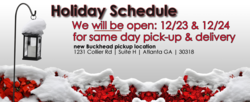 Atlanta, GA (PRWEB) December 22, 2012
Peachtree Petals, a recognized leading Atlanta florist and Master Florist, announces they will be open this weekend through Christmas Eve. The announcement comes in an effort to meet their customer demand fully, right before Christmas. The company is continually marketing their quality flower arrangements to customers seeking flowers and assorted gifts this weekend. The floral company desires to be the best choice for Christmas flowers and holiday flowers nationwide.
Peachtree Petals has the announcement marketed on the home page of their website. Their holiday schedule will be Saturday through Tuesday, December 24th. The flower shop will be open for customers to pick-up or receive free same-day delivery. Peachtree Petals expects availability will be key right before Christmas to take advantage of consumer shopping. They have already experienced an influx of flower sales this week, especially in-store. Many customers will not be working this weekend or Christmas Eve, resulting in a higher probability they will order flowers and have them delivered.
They are also offering incentives for pick up orders. There is a $10 discount for all pick up orders, which is attractive to those seeking for deals and who plan on visiting the popular flower shop. Their custom-designed Christmas Centerpieces are on sale for $19.99, which is pick-up only. The centerpiece sale will last until December 31st.
Peachtree Petals has its' very own driving staff equipped and ready for the expected sales growth over the next three days. Free same-day delivery of all their floral arrangements is standard for the premium florist and will not change during the holiday season. Peachtree Petals provide same-day delivery within the Atlanta and Metro-Atlanta areas. Rush delivery service is available also for an additional $10.
Peachtree Petals is a leader in quality floral arrangement and floral décor services. From stunning floral bouquets to wedding centerpieces, Peachtree Petals can meet all of your floral needs. Their floral designers have over 50 years of experience and enjoy their craft. Headquartered in Atlanta, Georgia, Peachtree Petals services a growing list of individual customers and corporate clients nationwide.