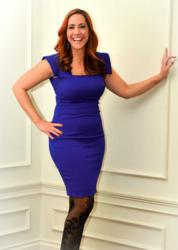 "Starting today -- as we are celebrating the holiday season with family and friends -- lets start celebrating ourselves. That's why I started the #Nota0Campaign"
New York, NY (PRWEB) December 24, 2012
Renowned nationally known style expert and correspondent for NBC's TODAY SHOW, The Wendy Williams Show, The Dr. Oz Show, E! News and more, and bestselling author of The Bra Book (BenBella Books, 2009) Jene' Luciani today launched a campaign to encourage all women to celebrate themselves this holiday season.
Luciani speaks to millions of women regularly through her national TV appearances, social media outlets, columns and personal appearances, and receives hundreds of emails. After a recent appearance on the Dr. Oz Show, Luciani received an email that moved her to create a movement encouraging women to finally accept and love the skin they are in. The email said "thank you for speaking to us - the REAL women of the world - and for not being a size zero."
It's no secret the fashion industry caters to women who are unnaturally thin, and that Hollywood perpetuates this image. Luciani, mom to a 3 year old daughter herself, is using her platform to raise awareness that this 'body type' is unattainable for most women, and promotes eating disorders, self-image issues and low self-esteem among young and developing girls.
While Dr. Oz recently proclaimed to viewers "All Hail the Bra Guru," and Wendy Williams referred to Luciani as her "Most Important Guest Ever," Luciani has always thought of herself as an advocate and as the voice of and for real women in the fashion world, and someone who, while in the public spotlight, is just like every other mom in America. She once put a size 22 woman in a fashion segment on NBC's Today Show, and regularly shows women of all shapes and sizes in her TV segments who 'don't fit the mold' of a typical fashion model.
Luciani is available to speak on the #Nota0Campaign and why it's so important for women to stand up, speak out, and take pride in the skin they're in. "Starting today -- as we are celebrating the holiday season with family and friends -- lets start celebrating ourselves," proclaimed Luciani to more than 10,000 followers on her Twitter feed and Facebook fan pages. "It's called the #NotA0Campaign and it's an end to the dieting, starvation and overall desire to be as unnaturally skinny like the image being projected and perpetrated by much of Hollywood and the fashion industry. Even if you are a size zero, you can still support curves and a healthy body image for women and young girls. Let's spread the word and share the love... RT/re-post if you agree and let's make our voices heard!"