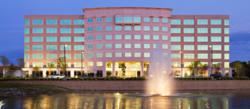 We place a lot of value on our employees. This location provides improved proximity to over three-quarters of our staff.
Nashville, Tenn. (PRWEB) December 24, 2012
Today, education software and data innovator RANDA Solutions formally announced plans to relocate the firm to Cool Springs in Franklin, Tennessee. In recent years, RANDA has experienced extraordinary growth, with a headcount exceeding fifty and three consecutive listings on the INC 5000.
While RANDA's Nashville-based facility size was a constraint, space was not the dominant consideration.
"Sheer growth isn't the only factor in our move," said Marty Reed, RANDA Chief Executive Officer. "We place a lot of value on our employees. The new location provides improved proximity to over three-quarters of our staff."
The new facility of approximately 26,000 square feet is designed to provide for ongoing, rapid headcount growth – particularly in application developers. Reed believes most of the additional talent will continue to be found in the Williamson County area, so the new location provides convenience to employees yet to be hired.
RANDA's Chief Strategy Officer, Randall Dennis, says the firm's progress is directly related to their success with K12 education contracts with a number of states, school districts in 17 states and schools in a number of foreign countries.
"We're blessed to enjoy dynamic growth at a time when so many firms are in contraction," Dennis said. "And we're projecting ongoing growth as we are more engaged with interests throughout the nation, in Washington D.C. and abroad."
The open architecture and provision for a number of team collaboration areas are central to RANDA's culture.
"Our openness and collaboration are central features of how we approach R&D," says Dennis. "They're a physical manifestation of our business philosophy. It's exciting to see it all come together."
RANDA begins its move-in to the facility after possession on January 18. The transition is expected to be completed by January 25th.
"Then the real fun begins," says Reed. "Our goal is to transform education by providing stakeholders timely, accurate and useful education intelligence. This facility is the playground where we get to see that come together."
###
About RANDA Solutions
RANDA Solutions is an INC. 5000 software firm based in Nashville, TN serving the education sector. RANDA acquires, manages and utilizes data providing administrators and teachers a variety of education intelligence: Student Data (student identification, student demographics, summative and formative assessments, student growth, course completion, and college readiness), Educator Data (educator identification, educator demographics, professional development/continuing education, teacher student data link, value added assessment alignment, and teacher effectiveness), and Third-party Data (community demographics, school climate, early warning data, etc.). Historical and live data reporting, along with additional customized content, is delivered via RANDA's secure web portals and integrates seamlessly with RANDA's cross-platform mobile applications for iPads and Android devices.