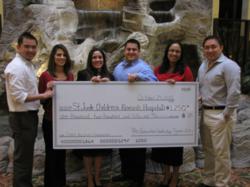 WASHINGTON (PRWEB) December 21, 2012
Graduate School USA is proud to announce that a team of participants from the 2013 Executive Leadership Program provided outstanding community service in support of St Jude Children's Research Hospital. The Executive Leadership Program is designed to build participants' leadership skills and abilities in a number of specific areas so that they may achieve personal and professional goals while gaining a deeper understanding of their roles within their own organizations — and this donation demonstrated the participants' capacity to lead.
"During a recent Executive Leadership Program training session held in Albuquerque, New Mexico, Team 15: Inspirations organized a silent auction to raise money for St. Jude Children's Research Hospital as part of their community service requirement," said Kimberly Robinson, director of Graduate School USA's Center for Leadership and Management. "This effort was a shining example of what teamwork and leadership can achieve. It was an experience that brought the participants out of the classroom and into the real world."
The silent auction raised over $1,200 for St. Jude Children's Research Hospital, and hospital representatives were on hand to receive the check from the Executive Leadership Program participants. Team 15 members represent agencies throughout the United States government, including Department of Homeland Security/Immigration and Customs Enforcement, United States Marine Corps, Department of Defense, Department of State, Department of Transportation/Federal Aviation Administration, and Department of the Interior/National Park Service.
The Executive Leadership Program curriculum consists of four one-week residential training sessions. Training focuses on leadership competencies such as team building, conflict management, external awareness, and critical thinking. There is a special emphasis on the study of emotional intelligence, mentoring and coaching, and the value of community service.
About Graduate School USA
Dedicated to providing relevant learning opportunities in public service, Graduate School USA has served the federal and DC metro community since 1921. An independent, nonprofit, accredited, educational institution, the School is dedicated to academic excellence and lifelong learning. Services include individual assessments, career-related courses, certificate and degree programs, continuing education, and distance learning. More information about Graduate School USA's leadership programs can be found at graduateschool.edu/clm.
###