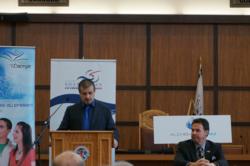 "We have the expertise, the skills and the infrastructures required to attract to Shawinigan companies wishing to grow in the social and mobile games digital field." Michel Angers, Mayor of Shawinigan
Shawinigan, Quebec (PRWEB) December 21, 2012
The City of Shawinigan will develop a center of excellence for social and mobile games within the next several months. This project consists of two parts: skills development and the establishment of an eco-responsible data center.
"We have everything we need to set up this center of excellence here", stated Michel Angers, Mayor of Shawinigan. "We have the expertise, the skills and the infrastructures required to attract to Shawinigan companies wishing to grow in the social and mobile games digital field."
The skills development part of the project will offer training to young creators, business incubators and a research and development (R&D) center.
Shawinigan : A Digital Energy Hub
It is a global project that creates a synergy of resources and skills to achieve excellence.
This synergy is fueled by the presence of Alchemic Dream, Inc. in the city of Shawinigan, a premier international provider of services for companies that develop and publish MMOs (Massively Multiplayer Online games), virtual worlds, social games, casual games, mobile games and transmedia content.
Alchemic Dream, Inc. also provide services to online payment and virtual goods providers; their services range from localization to customer service, community management, game mastering, risk management, and new gaming experiences. The enterprise currently employs several hundred employees on five continents.
"We founded our business in Shawinigan eleven years ago", says Philippe Nadeau, Co-Founder and Vice-President of Alchemic Dream, Inc. "We are very proud of it and emphasize it each time we travel elsewhere. We have always believed in the potential of the city, and now, we do more than ever."
According to Mr. Nadeau, the video game industry is growing fast. "It has exceeded that of the movies and will double by 2015. To evolve in this industry as pioneers and leaders allowed us to identify its needs and we have all that is needed to fulfill them, right here in Shawinigan", he adds.
Alchemic Dream's knowledge of the social and mobile games market will be joined together with the Entrepreneurship Centre of Shawinigan's expertise in training and new business start-ups. This expertise will allow training students with educational material that is continuously updated, in order to anticipate the need for new skills.
"First, we will support students during their technical training who wish to start their own business with the Starting up a Business course, then we will play a major role during the continued training with the Effectively Manage my Business course." Said the President of the Commission scolaire de l'Energie.
Once the training is complete, the students will be directed towards the business incubator established by the Entrepreneurship Center of Shawinigan. Then, they will be able to create their own development studios for social and mobile games or contribute to the growth of existing studios. These studios will allow supporting young entrepreneurs from Quebec and around the world during five years at every stage of their economic maturing.
Luc Arvisais, President of the Entrepreneurship Center of Shawinigan and Chief Executive of CLD Shawinigan said "This project allows us to pool together all of our resources in the field of social and mobile games. It's a whole new generation of entrepreneurs that we will be able to guide towards success."
In order to promote and place developed games on the market, the center of excellence will create economic partnerships with game publishers to ensure the commercial success and the financial viability of the incubated companies.
In addition, a research and development (R&D) center will be integrated to the center of excellence to create public and private research partnerships to develop new game experiences. It will ensure an ongoing technological awareness in order to develop new educational material and to carry out professional training workshops.
An Eco-Responsible Data Center
The establishment of an eco-responsible data center specialized in social and mobile games hosting completes the excellence centre. It could provide well-adapted computer equipment, a test platform, and a team of specialists to advise the development teams during the game creation phase. With the help of the Carrefour de l'efficacité énergétique de Shawinigan, this eco-responsible data center will be matched with an energy efficiency, allowing users to improve the success of their operations with an approach that is environmentally-friendly and that offsets greenhouse gases.
In fact, Shawinigan provides a combination of location factors that allow the optimization of energy efficiency of an eco-responsible data centre: the proximity of the Saint-Maurice River which provides the water supply for the cooling system of the server rooms, the cold weather that lasts several months every year, easy access to hydro power great in quality and quantity, the optical fiber presence, and the low earthquake risk zone.
"We have a unique and previously unseen project, which comes at a particularly good timing", summarized the Co-Founder and Vice-President of Alchemic Dream, Inc., Philippe Nadeau. "Everything converges towards the digitally-recharged energy perspective. With this initiative, Shawinigan fully enters into the third millennium."