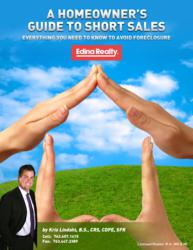 Kris Lindahl recently received the Chairman's Award from Edina Realty for excellence in sales and sales volume year-to-date
Blaine, Mn (PRWEB) December 21, 2012
"Have you been thinking about doing a short sale in Richfield, MN?" asks Kris Lindahl in the newest video in his series, and continues,"I am Edina Realty's number one short sale agent and would be happy to help." Kris wants potential clients in Richfield, MN to know that he is fully prepared and experienced enough to take on the short selling process. "Feel free to call or email me with any questions,"Kris says at the end of the video.
"For anyone wanting to see my sales record I am prepared to show them every sale that I've made,"Kris Lindahl said, and continued,"I have a great running record with sales and sales volume."
Kris Lindahl recently received the Chairman's Award from Edina Realty for excellence in sales and sales volume year-to-date. The Chairman's Award is the highest honor that Edina Realty gives its' agents.
"I believe that in order to buy or sell a home in this modern day and age you absolutely need to have the best technological tools at your fingertips and with me as your agent I can guarantee that will always be the case,"Kris Lindahl said.
Call Kris at (763) 607-1415 for more information. Visit the Minnesota Short Sale Calculator website to check your eligibility and the Kris Lindahl real estate website. Download the complimentary eBook titled "A Homeowner's Guide To Short Sales."