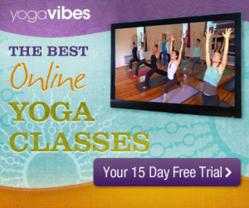 "I am so blessed to be able to do what I love and stay deeply connected to my yoga practice. This is truly an honor, which I hope I can pass onto others."
Charlotte, NC (PRWEB) December 26, 2012
YogaVibes, a leading distributor of online yoga classes, is happy to announce the release of yoga videos with Joan Hyman, a distinguished YogaWorks Senior Teacher internationally recognized for her popular teacher trainings, workshops and retreats around the world. Joan partnered with YogaVibes to provide an online yoga experience that is intelligent and light, infused with a strong level of intensity that stems from her years of focused study.
YogaVibes is deeply honored to partner with Joan – an incredibly open, authentic spirit. Joan continues to grow in her teachings by following her heart's intention and opening herself up to experiences that help her evolve in her own life. Her teachings come from an organic and intuitive place.
"I am so blessed to be able to do what I love and stay deeply connected to my yoga practice. This is truly an honor, which I hope I can pass onto others."
YogaVibes is thrilled to offer a variety of online yoga videos with Joan featuring Vinyasa, Restorative, and Pranayama practices including:
Twist & Cleanse (64 minutes)
Joan's phenomenal instruction takes the student through deep twists, inversions, and gentle backbends and hip openers.
Wind Down with Shoulder Stand (57 minutes)
Enjoy shoulder openers and a long Shoulder Stand to wind down at the end of a busy day and rest deeply.
15 Minute End of Day Pranayama and Restorative (15 minutes)
Wind down at the end of the day with a light pranayama practice to soothe the nervous system and promote relaxation.
Short Vinyasa Flow (20 minutes)
Move through the Sun Salutations before exploring longer-held poses, hip openers, and standing balances. End this comprehensive online yoga flow with backbends and forward bends.
To enjoy more of Joan Hyman's online yoga offerings visit her page on YogaVibes. There, you will find her great selection of full-length online yoga classes and free online yoga videos.
ABOUT JOAN HYMAN
Joan Hyman leads teacher trainings, workshops, and retreats across the globe in addition to many popular Vinyasa flow classes in Los Angeles. She has been teaching for over 20 years, beginning in her hometown of Philadelphia, where she earned a Bachelor's of Science degree in Exercise Science from Temple University. She discovered yoga in NYC where she pursued a career as a professional dancer. Her love for yoga took her out to Santa Monica, CA where she completed The YogaWorks Teacher Training with Maty Ezraty and Lisa Walford in 2002. She is a certified YogaWorks Teacher Trainer and a dedicated ashtangi who has traveled to India three times to study with the beloved Sri. K. Pattabhi Jois and many other world renowned teachers. She also studies Ayurveda, meditation, and cooking vegetarian food, and she travels the world like it's her backyard!
ABOUT YOGAVIBES
Looking for the best online yoga classes? Look no further! YogaVibes.com is an online realm for high-quality, authentic yoga classes and instructional videos captured in a real studio with real students. YogaVibes offers a diverse selection of online yoga classes from the best yoga teachers in the world, making learning and living yoga easy in everyday life. YogaVibes' mission: To create a supportive, challenging, and welcoming online community of passionate and inspiring yogis.