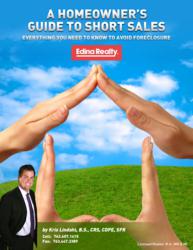 Short sale meetings focusing on a specific bank or lender are of great help to the community
Blaine, MN (PRWEB) December 21, 2012
Edina Realty agent Kris Lindahl held a Regions Bank short sale meeting on Thursday morning in Blaine, Minnesota. At the meeting Kris covered how Regions Bank handles the short sale process and what steps one needs to follow to be successful in working with Regions Bank. Kris also spent some time going over how to use several online resources that he has created for those looking for more information on the short selling process.
"Short sale meetings focusing on a specific bank or lender are of great help to the community," Kris Lindahl said of the meeting yesterday, and continued, "Regions Bank is a popular lender to partner with during the short sale process. I was more than happy to go over the process with the attendees at the meeting yesterday."
"The first step in the Regions Bank short sale process is to find yourself an experienced agent," Kris Lindahl explained at the meeting, and continued, "Once you've found an agent you'll want to work with him or her to market your home to a buyer. When you've found a buyer your agent will write up a purchase agreement with the buyer. At the same time you'll want to send Regions Bank several documents including a hardship letter, taxes, pay stubs, and any others required."
"From there your agent and a Regions Bank negotiator will agree on a selling price for the home and write up a short sale approval letter," Lindahl explained. "Technology has changed the face of real estate, so when buying or selling a home you'll need the best technological tools at your fingertips. With me as your agent I can guarantee that you will have access to exclusive software."
Kris recently received the Chairman's Award from Edina Realty for excellence in sales and sales volume. The Chairman's Award is the highest honor Edina Realty gives to its agents. "I consider myself an Internet Marketing Specialist," Kris explains, "I know real estate like the back of my iPad."
Call Kris Lindahl at (763) 607-1415 for more information. Visit the Minnesota short sale calculator website to check your eligibility and the Kris Lindahl real estate website. Download "A Homeowner's Guide To Short Sales", a complimentary eBook recently published.