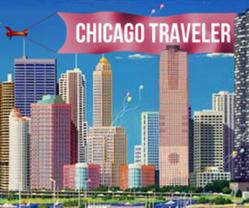 (PRWEB) December 22, 2012
It's time to start thinking about the best way to end 2012 and begin 2013! Don't let another New Year's Eve go by sitting at home, watching the Ball Drop on TV. Get out in the city and celebrate! There are tons of things to do in Chicago on New Years Eve, so choosing the best one is the hardest part. ChicagoTraveler.com can help narrow it down with some of these events!
See a Concert
Don't miss one of the concerts in Chicago this New Years Eve either. Chicago travelers (and natives of course) have the chance to see Porter Robinson at the Congress Theatre, Naked Rayfun & The Dwarves at the Cobra Lounge, or Big Gigantic at the Aragon Ballroom. The Airborne Toxic Event is also playing at Metro Smart Bar.
There will also be quite a few big names performing this New Years Eve in Chicago. Head over to the House of Blues to catch Third Eye Blind, which may be the perfect way to get through this semi-charmed kind of life. As an alternative, Wanda Jackson, the Queen of Rockabilly, is also putting on a show at the Double Door. Charlie Wilson is also performing at the Chicago Theatre this New Years Eve. He's getting ready to release a new album in honor of his 60th birthday next month, and his single "My Love Is All I Have" has already become a sensation.
Hotel Parties
Many of the hotels in Chicago host awesome New Years Eve parties! For a classy night on New Years Eve, the Ivy Hotel is hosting a luxurious NYE party in the 15th floor banquet halls with a live DJ, open bar and access to the SKY Terrace Lounge. The Hyatt Chicago Mag Mile is hosting their 10th Annual New Years Eve Extravaganza complete with a hosted cocktail reception, free admission to Sound Bar Nightclub and an immediate after party a Crescendo. Or 'Party Like A Rock Star' at the Hard Rock Hotel and start the night with a 4 hour top shelf cocktail reception, followed by a night of DJs, dancing and more drinking. Several Chicago hotels still have a few rooms left, and a few Chicago hotel deals to, so there's still time (and lots of incentive) to start planning a last minute New Year's Eve getaway too!
Head to the Theater
Choose from any of the shows in Chicago playing on New Years Eve. I Love Lucy will be playing at the Broadway Playhouse, The Book of Mormon is playing at the Bank of America Theater, Million Dollar Quartet will be performing at the Apollo Theater, War Horse is playing at the Cadillac Palace and the Blue Man Group is putting on a family-friendly show at Briar Street Theater 3 times on New Years Eve!
Have a Ball
Many Chicago events are taking up the traditional theme of a New Years Eve Ball. Slip into that cocktail dress and head to the Castle at Excalibur Nightclub for their New Years Eve Ball. This historic building is one of Chicago's architectural gems, but it's also been named the "Best Nightclub in Chicago" by the Chicago Tribune and it's known for it's high energy and high-class atmosphere. There's also a Rock 'n Roll Ball in the Montrose Room at the Intercontinental Hotel Chicago O'Hare this New Years Eve. This long-running event
Book a Limo
What's a better way to get to any of the Near Year's Eve events on this very special night than in a luxurious limo? New Years Eve only comes once a year, so treat every member of the party to a brand new beginning this 2013 in style! Limos in Chicago often offer great discounts for the whole night, but renting a limo is not only a way to look nice and feel like a superstar. Booking a limo this New Years Eve ensures a ride to and from any NYE destination, so you're never stranded looking for a cab or having to worry about taking public transportation in those nice clothes. Don't have to worry about carrying around all that cash you'd normally need to get home.
Stay safe and party in style this New Years Eve in Chicago! The hardest part is choosing one way to spend the evening, so make it a good choice with one of these events.
About ChicagoTraveler.com:
Chicago is one of the top vacation destinations in America, famous for its annual events, popular foods, architecture and top sports teams. ChicagoTraveler.com guides travelers to all the best things to do, top places to eat and deals on the best places in Chicago to stay.