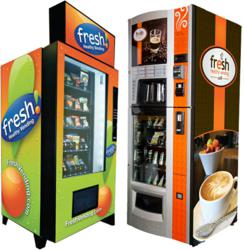 Placing the needs of our franchisees first has proved a winning strategy, and is key to our continuing success
San Diego, CA (PRWEB) December 28, 2012
Wisconsinites need to watch their weight if they do not want to see more than half the state's adults obese by 2030.
Leading marketer of healthier snacks Fresh Healthy Vending has announced its latest franchise agreement with Wisconsin entrepreneurs placing the firm's distinctive healthy vending machines in local schools and businesses.
Trust for America's Health released a state-by-state study titled "F as in Fat: How Obesity Threatens America's Future 2012," which found the obesity rate among Wisconsin adults could be 56.3 percent by 2030. In 2011, 27.7 percent of the state's adults were obese.
The report found the increase in obesity is expected to contribute toward higher disease rates and health care costs, which the report said might rise by 14.7 percent by 2030.
"Over the next 20 years, obesity could contribute to 708,716 new cases of type 2 diabetes, 1,579,761 new cases of coronary heart disease and stroke, 1,478,205 new cases of hypertension, 958,720 new cases of arthritis and 223,559 new cases of obesity-related cancer in Wisconsin," the report said.
Fresh Healthy Vending leads the charge when it comes to changing the perception of vending machines. The franchise network operates over 1,800 dedicated healthy vending machines across the nation, according to its San Diego headquarters. The company provides a turnkey franchise solution that incorporates high tech healthy vending machines and over 500 well recognized healthy snacks and drinks along with a location procurement department that secures homes for its franchisees machines nationwide.
Company Vice President Alex Kennedy claims the franchisee numbers have grown every quarter this year. "Our business is growing rapidly, we have delivered over 1000 machines so far in 2013, and next year we are launching something new to the industry that is going to make a huge impact. Placing the needs of our franchisees first has proved a winning strategy, and is key to our continuing success," she notes. "By investing resources in training and the identification of prime sites for locating vending machines, we continue to thrive despite the uncertain national economic climate."
Furthermore, the company's expanding market share and franchise base has much to do with positive buzz within the industry, according to Kennedy.
Theresa and David Stuesser are a case in point. Resident entrepreneurs living in the Madison, Wisconsin area, they first became aware of Fresh Healthy Vending after reading about the firm in trade publications.
"Being health conscious parents of two young children, we were interested in bringing more and healthier snacking choices to local schools," says Theresa. "But some of the best names in quality vended foods and beverages simply weren't available locally. We've now accomplished that—and we're pleased to be supplying area schools with healthier, tastier and remarkably popular snack options."
The Fresh Healthy Vending operation helped them in initially setting up their vending business and in mastering high-tech tools allowing them to efficiently track each machine's sales, according to Stuesser. Demographic data identifying prospective new vending sites, and even product inventory best suited to each location, are also supplied.
Fresh Healthy Vending's lengthy assortment of snacks includes some of the biggest niche food makers in the industry: Odwalla, Vitamin Water, Bolthouse Farms, Stonyfield Farms, Horizon Organic Milks, Clif Bars, and Honest Teas to name a few.
For school administrators, the chance to introduce healthier food into the daily school routine is a strong sales point. "Our kids seem to love the wider variety of snack choices, and we appreciate the healthier content," says Stephanie Spoehr, principal at Mount Horeb High School. Michelle Denk, Food Service Director for the local school district, sees Fresh Healthy Vending's machines as "a valuable resource" in helping meet her state's progressive guidelines on school nutrition.
For more information on becoming a Fresh Healthy Vending franchisee in your area, please visit our website at http://www.freshvending.com.
And if you're interested in bringing a Fresh Healthy Vending Snack/Drink or Gourmet Coffee Café machine to your community, visit us at http://www.freshandhealthy.org or phone (888) 902-7558.