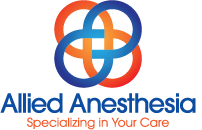 Orange, CA (PRWEB) December 21, 2012
The physicians at Allied Anesthesia are a critical part of the team of surgeons, anesthesiologists, nurses, perfusionists, and support staff at St. Joseph Hospital of Orange, who received a three-star rating from the Society of Thoracic Surgeons (STS), ranking St. Joseph Hospital of Orange among the top 10 to 15 percent of adult cardiac surgery centers in the country.
The rating was based on the outcomes of coronary artery bypass grafting cases from July 1, 2011, through June 30, 2012.
This is the third year in a row that St. Joseph has earned a three-star rating.
"The physicians of Allied Anesthesia are extremely proud and humble to be an integral part of the award winning St. Joseph Hospital of Orange cardiac surgery program," said Dr. Paul Yost, an Allied anesthesiologist and director of cardiac services at St. Joseph.
The STS maintains a nationwide, adult cardiac surgery database and issues a semiannual report of scores and star ratings. The database focuses on coronary artery bypass grafting surgery because that is the most frequently performed and extensively studied cardiothoracic surgical procedure. The report is considered the most comprehensive measure of cardiothoracic surgery quality currently available, according to the STS.
Scores are based on a combination of 11 measures of quality divided into four domains: risk-adjusted mortality based on the condition of the patients prior to surgery; percentage of patients, who are discharged without serious complications such as stroke, infection or kidney failure; percentage of procedures that involve using an internal mammary artery for bypass grafting, and, how often all four primary peri-operative medications are prescribed. Each participant receives a score for each of the four domains, an overall composite score and a star ranking.
Most database participants receive a two-star ranking. Some 10 to15 percent have one star and another 10 to15 percent earn three stars.
Voluntary participation in the database has grown steadily. Today, there are 1,041 participants representing an estimated 94 percent of all adult cardiac surgery centers nationwide.
About Allied Anesthesia: With 48 highly qualified anesthesiologists on staff, Allied Anesthesia provides adult and pediatric anesthesia services to St. Joseph Hospital of Orange, the Children's Hospital of Orange County, the Main Street Specialty Surgery Center, and many other Southern California healthcare facilities.
Allied specializes in pediatric anesthesia, performing approximately 12,000 pediatric anesthetic procedures a year. All of the group's anesthesiologists have a special interest in pediatric pain management and are board certified or board eligible in pediatric anesthesia. All Allied Anesthesiologists are board certified, and they staff and manage the most efficient operating rooms in Southern California.
Allied is a member of the California Society of Anesthesiologists and the American Society of Anesthesiologists.
For more information, visit http://www.alliedanesthesia.com.