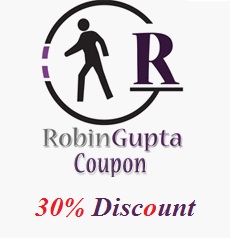 Get 30% Discount on All Services! Use Coupon Code "welcome2013"
Sri Ganganagar, Rajasthan (PRWEB) December 22, 2012
RobinGupta.Co has just announced a fantastic X-mas and New Year discount deal, allowing all the customers to avail up to 30% discount on all the SEO, Link Building and guest posting service this festive season.
Robin Gupta is a prominent name in web markets, who owns RobinGupta.co and he has now launched a new website GuestPostingService.co.uk to exclusively cater to the UK and European clientele. He has just announced 30% discount on the X-Mas and New Year's Eve on all the orders placed for next two weeks.
This enticing promotion will be valid on all services offered on RobinGupta.co and GuestPostingService.co.uk up to January 10, 2013.
One can take a look at the guest posting packages offered on GuestPostingSerivce.co.uk and take advantage of the festive discounts.
Customers just need to insert the coupon code "welcome2013" during the check-out process to avail the discount. And, there are no other hidden terms and conditions, so the customers can easily avail the discount on all the new orders placed before January 10, 2013.
Robin Gupta has been providing SEO services to hundreds of clients around the globe, and since the terror of Google Penguin updates taking away the mental peace of millions of website owners, he has started offering guest posting services too.
He started GuestPostingService.co.uk to cater exclusively to the needs of UK-based customers, and with the attractive festive discounts, he hopes to add a few more customers to the existing clientele.
Robin has also been working as an SEO reseller, allowing SEO firms to outsource their projects at discounted prices to his firm. On announcement on the X-Mas and New Year discounts, he commented - "New Year is the best time to kick-start a new SEO campaign, to give a fresh start to your online marketing campaign. And, what better way can you find, to improve SEO of your website than to get a flat 30% discount, and get more for every penny paid."
Robin had also recently launched a bulk domain authority checker tool for the clients, allowing SEO agencies to check the DA of multiple domains at one go, saving them lots of precious time.
Robin further explained – "We have been following Google's algorithmic updates very closely, and we understand how to build powerful links to a domain to save it from Google's onslaught. And, our guest posting services have done wonders to hundreds of websites to date."
In the New Year, Robin wishes to expand rigorously in the US and UK markets, and he intends to launch a separate service targeting the US customers shortly.
About Robin Gupta
Robin Gupta is a known name in the web marketing world, and he has been providing SEO, Press Release writing and distribution, and guest posting services at reasonable prices to hundreds of clients over the past 7 years.
With the latest New Year promotions, he intends to expand his clientele, and serve many more UK-based customers with his new service http://www.guestpostingservice.co.uk