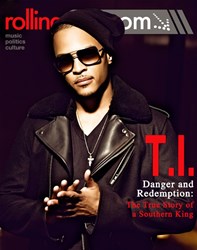 Atlanta, GA (PRWEB) December 21, 2012
Entertainment mogul Clifford "T.I." Harris has released a new CD – Trouble Man: Heavy is the Head – which critics agree is his most important piece of work in the last five years. In this interview with Editor Amir Shaw, T.I. shares his candid thoughts on prison troubles, his new music, and realizing Tameka "Tiny" Harris was the one, the love of his life.
Raised on the streets of Atlanta, T.I. is not one to glorify the penal and correction system. "If you give me the option between jail and college, I'm taking college," he shares. "When I went to prison in 2009, I had so much resentment for the system … Prison did me no good."
T.I. co-executive produces the VH1 reality series "T.I. and Tiny: The Family Hustle" with his wife Tiny. When he sits down with Shaw, he reveals that he knew the exact day he wanted to make her his wife as well as offers a tip to women about settling down with the right man.
Visit rollingout.com to read the interview in its entirety. Be sure to check out the exclusive photo shoot with celebrity photographer DeWayne Rogers.
ABOUT rolling out MAGAZINE/MEDIA
Rolling out, the nation's largest free urban weekly, is a digital and print magazine that focuses on the black experience in response to entertainment, politics, fashion, culture, sports and lifestyle points of interest. Headquartered in Atlanta, rolling out is positioned as the voice for the African American experience, using its newspaper as a platform in the marketplace to express urgency for education reform, and to document entrepreneurial endeavors and other relevant issues in the Diaspora. For information on rolling out, please log on to rollingout.com.