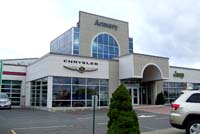 Drop off your donations now through January 6th.
Albany, NY (PRWEB) December 22, 2012
During the holidays, it's important to remember that people aren't the only ones affected by tough economic times. Armory Garage is partnering with Capital District Humane Association NFP by collecting donations of pet food and supplies for needy families and their pets this holiday season. Donations of dry and canned food for dogs and cats, pet treats and other pet supplies can be dropped off at the Armory Chrysler Jeep Showroom, 926 Central Avenue, Albany; now through January 6th. Hours are Monday-Thursday: 9am-8pm, Friday & Saturday: 9am-6pm.
Armory Garage has been serving the Capital District since 1918, and supports many of the charities in our area. The Capital District Humane Association, NFP is 100% volunteer, 100% NO KILL rescue group. Donations are greatly needed as this time- Our shelters have had an increased need due to the economic downturn.
"Please help a needy family care for their special pet by dropping off a donation today.
If you live in the Capital Region, we're confident you're familiar with our motto at Armory Garage: Nobody beats Armory. Nobody. In business and an active part of our community since 1918," says Joe Kramer, a company spokesman.
About the company:
Armory Chrysler Jeep is the largest Volume Chrysler Jeep store in Capital Region, With 94 years of experience and 3 generations of family ownership. We have the Largest Selection and a full line up of New Chrysler vehicles and New Jeep vehicles and pre-owned vehicles in the Albany, NY area.
We have over 200 pre-owned vehicles and certified pre-owned vehicles all in the same location on the corner of Central and Colvin Avenues. Our Budget Center pre-owned vehicle lot has vehicles starting at $3995 in addition to our large selection of Factory Chrysler Jeep and Dodge Certified vehicles with expanded additional warrantees.