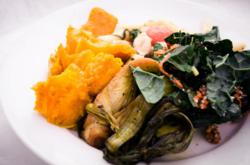 "We offer vegetarian, vegan, gluten-free and lactose-free meal options, as well as meals to accommodate a variety of ethnic and religious practices." - Chef Kyle Vermeulen
College Park, MD (PRWEB) December 21, 2012
With engagement season in full swing, La Prima Catering and its special events division, Catering by Seasons, remind all brides and others planning important occasions for 2013 that January is the time to start planning your own signature "Seeds to Celebrations" grown-to-order, farm to table event.
Catering by Seasons' executive chef and experienced event planners can help you create a truly unique, stunning, eco-elegant menu, partnering with select local farms to bring you the best in sustainable cuisine. The company also specializes in creative, vegetarian weddings and other events, and can easily accommodate any religious or dietary restrictions.
"As a caterer, we feel a responsibility to provide solutions for the many allergies and dietary restrictions out there today," says Chef Kyle Vermeulen. "We offer vegetarian, vegan, gluten-free and lactose-free meal options, as well as meals to accommodate a variety of ethnic and religious practices."
La Prima and Catering by Seasons are committed to providing healthful, delicious fare using fresh herbs and produce from their own onsite vegetable garden and honest ingredients from local, sustainable farms. The company is considered a leader in green catering, composting more than 1,000 pounds of food waste each week and utilizing renewable wind power at both of its Maryland kitchens.
To begin planning your elegant, sustainable grown to order wedding or other special event, contact your friendly event managers at Catering by Seasons.
Stay connected with La Prima on Facebook, Twitter and Pinterest, and learn more about the company's many catering options and green solutions at laprimafoodgroup.com.