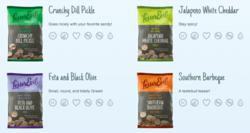 It's nice to have Chia Crisps launch in our own backyard.
Danbury, CT (PRWEB) December 23, 2012
LesserEvil Healthy Brands Co.-- a healthy snack food company located in Connecticut-- announces Stew Leonard's will now offer Chia Crisps at all four locations. The Connecticut-based farm fresh foods store recently stocked shelves with the Southern Barbeque and Feta and Black Olive flavored black bean and milled chia seed chips.
"We are excited to see this happen with our new product line since Stew Leonard's is a local grocer," says LesserEvil Brand Manager Kristen Cardilli. "Soon Chia Crisps will hit shelves in several national stores, and it's nice to have the product launch right in our backyard."
LesserEvil Chia Crisps offer a healthy alternative to traditional potato or rice-based snack foods without compromising on the flavor. Made with black bean and milled with Salba® Chia, Chia Crisps offer a higher protein and fiber content than other chips. In addition, the chia seed provides a rich source of Omega 3, rich in fiber, minerals, vitamin C and antioxidants.
Stew Leonard's locations in Danbury, CT, Newington, CT, Norwalk, CT, and Yonkers, NY will carry the four-ounce bags of both flavors for $2.99 per bag or $5.00 for when purchasing two bags.