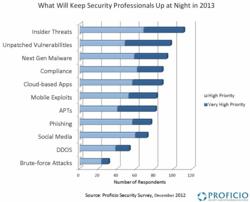 Insider Threats and Unpatched Vulnerabilities top the list of what will keep security professionals up at night
Irvine, Calif. (PRWEB) December 22, 2012
Proficio, a leading provider of managed security and networking services, announced today the results of its annual survey of IT security professionals. When asked what is most likely to keep them up at night in 2013, respondents highlighted insider threats, followed by un­patched security vulnerabilities, and next generation malware.
Insider threats rank at the top of IT security professionals list.
"As a managed security service provider tasked with monitoring and responding to security alerts, we are finding insider threats to be a growing source of serious security incidents," said Brad Taylor, CEO, Proficio Inc. "By correlating users' activity with their roles and application use, we are able to identify anomalies in the behavior of high-risk users, detect abuse, and reduce the threat of damaging activity by insiders."
Top 5 Issues for 2013
Proficio surveyed over 200 IT security professionals and asked them what security issues are most likely to keep them up at night in 2013. The Top 5 issues are:
1. Insider Threats from Employees, Consultants, and Partners
Examples of insider threats include disgruntled employees seeking to harm their employer, or consultants who unintentionally breach an organization's confidentiality. Insider activity can be much more difficult to pinpoint than conventional external activity as insiders have more privileges than an external attacker. Proficio provides a comprehensive solution to detect and prevent insider threats including technology from HP ArcSight and Securonix to correlate user activity and detect anomalies.
2. Unpatched Security Vulnerabilities
Most organizations are flooded with updates and it is hard to ensure critical security vulnerabilities are properly patched. Proficio recommends our customers monitor events from antivirus systems, use intrusion prevention systems (IPS), like HP TippingPoint, to protect against zero-day attacks, and leverage next-generation systems management solutions, like Tanium, for rapid patch management and software distribution. The highest rates of attacks and breaches are on the Web Application Layer for most organizations. Proficio recommends a three vector approach to preventing web threats by regularly testing your applications with solutions like HP Fortify, utilizing a web application layer firewall tool like Imperva, Palo Alto Networks, or F5, and actively monitoring security events with a monitoring service provider or utilizing an advanced correlation SIEM like HP ArcSight.
3. Next Generation Malware
Next generation malware uses sophisticated approaches designed to evade legacy antivirus technologies. A core feature of many successful attacks is the malware agent gets dropped onto a compromised device and serves as the beachhead for conducting the actual crime. Proficio recommends solutions, like Damballa, for such advanced threat protection and utilization of reputation services correlated with monitoring of security events.
4. Compliance Requirements
IT security professionals play a critical role in achieving best practice security by following compliance guidelines with SOX, PCI, FISMA, HIPAA, and other regulations. Failing an audit often highlights security operations vulnerabilities resulting in unwanted executive scrutiny, diversion of scarce IT resources, and increased auditing costs. Proficio provides its clients with security assessments, automated monitoring and enforcement of security controls plus customized reporting to meet compliance requirements.
5. Cloud-based Applications and Data
The movement of applications to the cloud places new burdens on security teams as they must address a whole new set of security challenges. Proficio has experience in offering both cloud-based security solutions and protection for data residing in the cloud.
Advanced Persistent Threats (APTs), dealing with mobile exploits, and Phishing were other security issues that were important to respondents, but of lessor priority than the top 5 above.
About Proficio
Proficio is a leading provider of managed security and networking services. ProSOC is our security monitoring and analysis service. Using industry leading SIEM technology, security experts monitor, prioritize and respond to security alerts 24×7. Our experts have managed some of the largest and most respected Security Operation Centers in America. Proficio's ProNOC service provides 24×7 monitoring of networks, servers, circuits, and applications ensuring continuous uptime. Proficio offers comprehensive security assessment services including penetration testing and vulnerability analysis. Our customers benefit from receiving highly cost effective solutions that ensure the security, health, and performance of their networks and applications. For more information see: http://www.proficio.com.
Proficio Media Contact
John Humphreys
650-714-7218
jhumphreys(at)proficio(dot)com