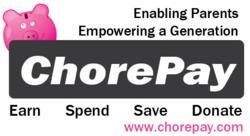 Kids get quite a shock when they go in to major retailers and receive as little as $7 for a used video game.
Seattle, WA (PRWEB) December 26, 2012
ChorePay, a free online household chore management solution, has made the public announcement of TradeIT!, its newest feature available to users.
TradeIT! is a peer-to-peer network allowing kids in the ChorePay user base to trade items they own with one another. Children can upload a description and photo of each item they'd like to trade and the ChorePay tool facilitates the transaction. ChorePay COO Jeremy Jacola was reached for further explanation:
"Suppose Bobby in San Francisco has an XBox game he's tired of playing. He can list that game on the TradeIT! page, grade the condition of the packaging, the disc itself, and upload photos and descriptions. Then Jimmy in Atlanta sees this listing and contacts Bobby for either a trade of another game Jimmy owns or to buy it for Bobby's listed price." ChorePay then acts as the middleman, facilitating the transaction.
"Kids get quite a shock when they go in to major retailers and receive as little as $7 for a used video game. They're even more shocked and disappointed when they see used games selling for as much as $55," Jacola continued. "It grinds my gears when I think of my son getting so little for his trade-ins. We want to open this market to allow kids to get greater value out of their purchase. We're focusing on getting kids to trade items with one another as this also fosters a sense of recycling, sustainability and finding value in used products."
The sustainability angle is important to ChorePay. Diane Gaddis, CMO of the company, officially announced the TradeIT! program on New Day NW, a Seattle-based morning news and variety program. "I'm very proud of [TradeIT!]...it is a sustainable part of our practice." Gaddis went on to liken the program to recycling items for others to use. She explained that users of TradeIT! are in direct conversation with one another and while ChorePay provides the venue for conversation and to execute the transaction, ChorePay does not profit from the service. "We don't make any money from this; what they decide to sell and buy for is entirely up to them."
About ChorePay
ChorePay provides a free online tool for parents to organize and centralize their children's chores. Beyond run-of-the-mill online chore charts and allowance tracking, this includes complete money management for the child with goals of education about saving, spending, and donating their earnings.
Founded in 2011, ChorePay is a small team of parents whose goal is to engage families and make the whole chore process not so much of a…well, chore. They believe it should be fun. Very fun.