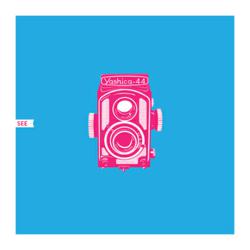 Designing the posters gave Sköna an opportunity to express all of the things we love about the business with a pure focus on good design.
San Francisco, CA (PRWEB) December 21, 2012
San Francisco-based Sköna Advertising, Inc., a boutique ad firm packing big creative punch, is bidding the year "hej då" with its holiday Posterarama, a giveaway of original poster designs showcasing Sköna's artful take on the ad business. The posters, first offered to Sköna's clients and vendors in celebration of the holiday season, are available at no cost to fans who request them online.
The agency's Posterama collection features three sets of four posters reflecting modern and retro advertising themes. The first set, titled Brand Senses, conveys the senses of sight, sound, taste and touch with vintage memorabilia – a box camera, tube radio, 1970's toaster and Eisenhower-era table fan. The "Ad Quotes" posters pull advertising quotes from the mouths of real "mad men" with messages like "an ad should be an appetizer, not a buffet" and "bad design is smoke, while good design is a mirror." The third set, "Trade Tools," combines everyday idioms with a De Stijl of iconic ad tools like Sharpies, coffee and the mouse.
"Designing the posters gave Sköna an opportunity to express all of the things we love about the business with a pure focus on good design," said Scott Springer, executive creative director, Sköna Advertising. "We are in the business of creating advertising and marketing solutions that meet our clients' business objectives. This project allowed us to indulge our love of art – for art's sake alone."
Sköna fans can order any collection online, while supplies last. The agency will ship the posters free of charge in mid-January.
Sköna's Posterama ups the ante on the agency's 2011 holiday event – Slink. Slank. Slunk. – when agency staffers crashed San Francisco's annual SantaCon event to invite the city's scruffy and scantily-clad Santas to launch Skinky toys from the steps of City Hall. Video footage of Slinky Santa drew thousands of views, as did Sköna's 2010 virtual white elephant gift exchange, an online gallery where people gifted and re-gifted cat butt pencil sharpeners, merman ornaments, 3D teddy bear sweaters and numerous other holiday "gifts."
"The holidays give our staff a chance to show off their creative sensibilities, personality and sense of humor," said Sköna's president, Jenny Sagstrom. "Our clients always look forward to our holiday experiments, but we probably enjoy it more than anyone."
About Sköna Advertising, Inc.
Sköna is a San Francisco-based, full-service advertising and design shop focusing on business needs from a holistic communications point of view. A small firm with big creative muscle, Sköna's award-winning work is based on this premise: We no longer have the luxury of "talking" to consumers; we must engage them in the conversation. This is where inbound and outbound marketing come together.