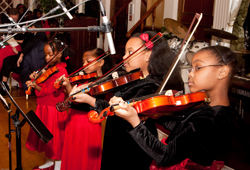 We have been offering dance classes and singing lessons for years in both Queens and Brooklyn.
New York, New York (PRWEB) December 21, 2012
A CD Launch Concert will be held on December 22nd, 2012 at The Black Spectrum Theatre, 177th st & Baisley Boulevard in Jamaica, Queens. The Concert starts at 7:00pm.
Akeem Headley is a Co-Founder and Board Member at Major Music International Corporation a non-profit organization founded in 2007. He is also an instructor at Joe's Music Center & Performing Arts, Inc. where he teaches piano, saxophone and theory classes. He mentors students from 3 years old to adults. Akeem is the Jazz Band and Gospel Band Director at the Music Academy. "We have been offering dance classes and singing lessons for years in both Queens and Brooklyn," says Headley.
Akeem now 22, began his music career on the piano at age 8 as a student at Joe's Music Center & Performing Arts, Inc. At age 12, Akeem was one of the lead musicians for the worship team at his church. At age 14 he began playing the alto and soprano saxophones. Through the years, Akeem acquired diversified musical skills and was privileged to entertain audiences at various events. Akeem has many guest performances for various community leaders and elected officials and also The New York Philharmonic Orchestra. He also performed at domestic and international concerts. Akeem served as the lead pianist at Perfecting Faith Church where the Senior Pastor is Donnie McClurkin. He was privileged to accompany Mary Mary and other recording artists. Akeem is the recipient of several scholarships, where he competed on a national level in the Fine Arts Festival annually sponsored by the Assembly of God organization. He also earned the 2008 Scholarship Award sponsored by "The Friendly 50 Club" and was a NANM (National Association of Negro Musicians) scholarship candidate. Akeem is determined that the sky is the limit and seeks the opportunity to perform at the White House some day. Visit their website at http://www.joesmusiccenter.org.
Joe's Music and Dance Academy mission is to provide students of all ages the skills they need to enjoy arts and entertainment, music and dance throughout a lifetime. As one of the premier music and dance schools in New York they provide music and dance lessons in a private or group setting as well as offsite programs. Their university trained teachers are qualified specialist in their disciplines. All teachers are subject to background checks and teach the way you want to learn. Their facilities are state of the art with professional dance floors to reduce fatigue and prevent injuries. They provide comfortable practice rooms with pianos and other instruments. They provide hassle-free and low pressure recitals. Free Recital DVD – For every family with purchase of one of their package options. Currently, they offer annual field trips to Carnegie Hall, Lincoln Center at nominal cost. They also have competitions and scholarships Opportunities. Free Wi-Fi while you wait.