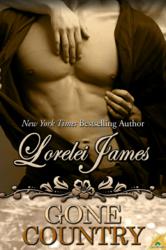 "Lorelei James has been delighting fans with her Rough Riders series for years, and her newest book definitely delivers," said Lindsey Faber, Samhain publisher. "We are thrilled to celebrate her success with her."
Cincinnati, OH (PRWEB) December 24, 2012
International publisher Samhain Publishing® today announced that author Lorelei James has been ranked on the New York Times Bestseller list for e-books (14), on the combined New York Times Bestseller list for print and e-books (31), and on the USA Today Bestseller list (76) for e-books and print books, with her e-book romance, GONE COUNTRY.
"Lorelei James has been delighting fans with her Rough Riders series for years, and her newest book definitely delivers," said Lindsey Faber, Samhain publisher. "We are thrilled to celebrate her success with her."
The New York Times' e-book bestseller lists in fiction and nonfiction are compiled from weekly data from publishers, chain bookstores, independent booksellers and online retailers, among other sources. Since 1935, The Times has published bestseller lists, widely considered the industry standard. Bestseller lists are also published by Publishers Weekly, a trade publication, and newspapers including The Los Angeles Times and USA Today.
The USA Today Bestseller list is different from the NYT model, in that it combines both eBook and traditional print books in the same list.
To learn more about this title and all Samhain books, and to order books at a special discounted rate, visit the publisher online at http://www.samhainpublishing.com.
About Samhain Publishing
Launched in 2005 with a vision of bringing extraordinary fiction to compulsive readers (who sometimes can't wait for a book to actually be printed), Samhain Publishing® is an international publisher of e-book and traditional print fiction. One of the most prominent voices of original e-book fiction, Samhain represents some of today's brightest authors of romance and horror fiction. To learn why at Samhain "it's all about the story…", visit Samhain Publishing online at http://www.samhainpublishing.com.