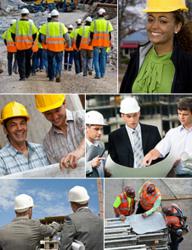 People are already referring to the expected period of growth as a manufacturing renaissance, thanks in part to the US energy production boom, and jobs for skilled workers are being created every day.
Dallas, TX (PRWEB) December 27, 2012
The online community-based website ConstrucitonConnection.com announces a new initiative to promote jobs in the energy sector as more companies come to them seeking well-qualified candidates. The industry-specific networking and hiring website allows companies to post jobs looking for professionals at all levels in all areas of the construction industry, but the number of jobs in energy continues to grow as we enter 2013.
End of year reports are promising continued growth in the construction industry in 2013, specifically in the energy sector. In states like Texas, Colorado, North Dakota, South Dakota, Washington, Illinois and Michigan more and more companies are hiring again. People are already referring to the expected period of growth as a manufacturing renaissance, thanks in part to the US energy production boom, and jobs for skilled workers are being created every day. These new jobs will reinvigorate the US' domestic oil and gas production, but there are also jobs being created in the growing sustainable and renewable energy industries.
While energy and building companies are seeking quality candidates for large-scale construction projects, Co-Founders of Construction Connection Kent Leighton and Suzanne Breistol are also working to promote individuals looking for jobs.
"It's great to see so many hiring opportunities again," says Leighton. "It's been difficult to find work in the industry for quite a while, but this big push for domestic energy production is creating jobs for people in our industry and so many others."
By registering and filling out the free online profile, individuals gain exposure to some of the top construction companies in the US. The patent-pending matching system that Construction Connection was built around allows individuals to highlight their specific skills and expertise, so companies can easily find the right person for the job.
Companies also enjoy many advantages on ConstructionConnection.com that are not offered on similar sites. After registering and completing their free company profile, a unique URL and landing page are created for every company member. This is a valuable feature especially for small to mid-sized companies that do not have big marketing budgets. With a page on ConstructionConnection.com, businesses are exposed to over 45,000 registered members on the site, in addition to over 100,000 people the site reaches via their social media initiatives. Plus, companies can post an unlimited number of jobs for free, enjoy access to a pool of experienced and relevant applicants, and have at their fingertips educational resources through articles and Construction Connection's partners.
One such company, Martin Construction, Inc. based in Gladstone, ND, recently took advantage of Construction Connection's initiative to promote jobs related to energy. To fill positions working on new projects in the energy sector, Martin Construction posted jobs seeking a heavy equipment mechanic and a scraper operator. Jobs like these were few and far between in years past, so Leighton and Breistol are delighted to help individuals and companies find each other.
"We believe 2013 will be a big year in our market, and we're going to be doing everything we can to help companies and individuals find what they're looking for," Breistol proclaims. Though the site has grown tremendously in the last year, both Leighton and Breistol take part in delivering exceptional customer service. The Co-Founders frequently call members to help them with registration, posting a job, searching a job or whatever it is they might need. "Whether you're a skilled tradesman looking for a job, or a business looking for a subcontractor or account manager, we're here to help."
Construction Connection was created out of a need for a more effective and streamlined way for construction industry professionals to find the right jobs or hire new, qualified employees and to find answers and solutions to run their businesses more successfully. Construction Connection is a patent-pending, one-of-a-kind profile creating / matchmaking system that delivers effective results. The founders of Construction Connection, both industry professionals themselves, have a passion for connecting people with experts in the industry to help them find smart business solutions; they encourage experts to share their knowledge and act as resources for others. In addition to the networking system, Construction Connection provides free educational resources, so industry professionals can spend as little as 5 minutes at a time learning something new that could enhance their professional careers and grow their businesses. Construction Connection saves you time, money and aggravation by matching people to people, people to companies, companies to people, and companies to companies.