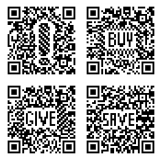 Get more bang for your buck!
(PRWEB) December 23, 2012
BangQR.com announces a unique line of eye-catching and informative QR codes. Their patent-pending process produces valid QR codes that combine your URL with distinctive visual elements like words such as 'SAVE', 'INFO', 'COUPON', 'VIDEO' and more, as well as symbols such as arrows and exclamation points. These serve two key purposes - they attract attention, and they set your customer's expectations for what they will see when they visit your site.
"Get more bang for your buck," says Joe Casey, inventor of the BangQR codes. "Make your QR codes work better. BangQR codes can improve response rates in magazines, posters, or other print advertising."
BangQR creation is a semi-automated process that usually takes a few hours. The finished BangQR points to the purchaser's URL and does not require any further fees or licensing. The site is still in 'beta' mode while the purchase process and delivery process is streamlined.
Prices start at $50 and go down to $20 in quantity.
BangQR Inc is a New York corporation.
Visit BangQR.com, or contact JoeCasey(at)BangQR(dot)com for more information.