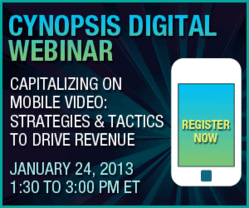 New York, NY (PRWEB) December 24, 2012
Experts from FreeWheel, Univision and Millennial Media will provide the best practices and strategies to reach, engage and potentially even convert consumers wherever they are at the January 24 webinar, "Capitalizing on Mobile Video: Strategies & Tactics to Drive Revenue." Hosted by Cynopsis Digital, this interactive virtual workshop will help make sense of the shifting landscape in mobile video advertising and will put you on the right path to grow revenue streams in 2013.
Digital experts, JoAnna Foyle Abel (VP, Marketing at FreeWheel), Charlie Echeverry (EVP Sales, Univision Interactive at Univision Communications Inc.), and Marcus Startzel (GM, North America at Millennial Media), will share how to leverage the growing consumer desire for accessing content and services from a multiplicity of devices to boost existing marketing efforts and increase sales and ROI.
At this 90-minute webinar, we'll address such topics as:

Learn about the devices and operating systems that are dominating the mobile video landscape, and which ones are on the rise.
Access the latest data and research on the growth of mobile video consumption -- who is watching, what/when/how are they watching -- to properly allocate ad dollars and build out a mobile video ad buy.
Identify mobile's place in the marketing budgets. Should mobile video advertising be viewed on its own or as a supplement to your TV and online video ad buys? How much should be invested in mobile?
Harness the power of social media in mobile and discover which social networks -- Facebook, Twitter, YouTube, Pinterest, Tumblr, or others -- actually matter when it comes to the growth of mobile video content consumption and advertising.
Target and optimize mobile ad formats and mobile video measurement. Our experts will share insights and case studies on what is working, why it is working, and what can be done to help marketers better understand the viewer.
Discover how targeting audiences via mobile devices can improve the ability to increase engagement and boost both brand affinity and sales.
This interactive webinar will allow for real time Q&A's to ensure specific questions are answered.
To register for the Capitalizing on Mobile Video: Strategies & Tactics to Drive Revenue webinar, visit: http://www.cynopsis.com/webinars/mobile-video/
Webinar attendees receive full access to speaker presentations along with a certificate of completion. Webinar tuition is based on location, not number of participants, so each registration site can have multiple participants for one low price. Questions? Contact Trish Pihonak at trish(at)cynopsis(dot)com.
About Cynopsis Media
Cynopsis Media is a division of Access Intelligence LLC. The Cynopsis Media family of products includes Cynopsis, Cynopsis: Digital, Cynopsis: Kids and Cynopsis: Sports daily e-publications, weekly Cynopsis: Classified Advantage e-publication, Special eReports, Event/Summits and a strong database of Classifieds and more. Visit cynopsis.com.
###