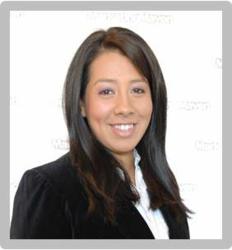 The tremendous growth Marketing Maven Public Relations has seen in the Hispanic division is partly a result of Escamilla's caliber to build successful campaigns that reach a bilingual market while executing collateral and media outreach in Spanish.
LOS ANGELES (PRWEB) December 27, 2012
Account Executive and Hispanic Media Manager Mari Escamilla has been selected as the Marketing Maven Public Relations 2012 Q4 Employee of the Quarter for her commitment to meeting and exceeding company and client goals.
Escamilla truly embodies the Marketing Maven Public Relations mission to exceed expectations in all that they do to help their clients achieve their most ambitious marketing goals, including reaching a previously untapped market. Her knowledge of public relations and marketing to the Hispanic demographic has played an integral part in growing the Hispanic division at Marketing Maven Public Relations. She has worked on national brands such as Coors Light and Listen Up Español and continues to grow the agency client roster in the Hispanic division.
Having secured celebrity and product endorsements for multiple Hispanic clients, Escamilla's name has become synonymous with success in the public relations field, especially in the lifestyle, Hispanic media and baby and parenting categories. Her media success is exemplified with her presence at the Latin GRAMMYs over the last two years as a key influencer by helping clients land interviews and placements while on the green carpet.
At the hub of Hispanic marketing in Miami, Escamilla conducts Spanish media tours with clients such as Anand Bhatt and Dr. 90210 for the launch of his book, Body By Rey. Her expertise in Hispanic marketing is far reaching as she formed contacts at Universal, Televisa, with Sensato's manager to coordinate his green carpet arrival at the 2012 Latin GRAMMYs, and as she became familiar with the Vice President of Sony Latino. Escamilla also works closely with Listen Up Español in helping them gain visibility as the leading call-center. In addition to securing successful client-media relationships, Escamilla placed clients in The Today Show, Fox 31, Pregnancy and Newborn Magazine, BabyTalk Magazine, TheBump.com, Univision, Return on Performance Magazine, The Early Show, America Teve and CNN India among others.
She recently positioned herself as a thought leader as a moderator of a panel about changing Direct Response Television marketing tactics when reaching the Hispanic demographic at the Electronic Retailing Association's Direct to Consumer trade show. Escamilla also attended Hispanicize in an effort to lead the charge in marketing to Hispanics correctly and teach the proper techniques to engage a bilingual target market. At Hispanicize, Escamilla made long-term connections and is constantly learning best practices to pitch future and current clients. Escamilla continues to solidify herself an expert by sharing her insight as a speaker at the upcoming 2013 Great Ideas Summit in Miami.
Escamilla was nominated for the 2012 Latino Business Award and recognized by Latino American Who's Who. She is a member of the Hispanic Public Relations Association (HPRA), Public Relations Society of America (PRSA), Women in Sports & Entertainment (WISE) and the ERA Hispanic Council.
"Mari truly embodies her presence as a marketer and public relations professional by applying her knowledge to her exceedingly talented public relations skills," said Lindsey Carnett, CEO and President of Marketing Maven Public Relations. "The tremendous growth Marketing Maven Public Relations has seen in the Hispanic division is partly a result of Escamilla's caliber to build successful campaigns that reach a bilingual market while executing collateral and media outreach in Spanish. We are excited to see Mari grow as a leader and a member of the community devoted to helping others grow as team members."
When Escamilla is not busy building successful campaigns, she contributes to the company by volunteering as a Folklórico teacher at a local high school. She donates her time every week to work with students that want to learn dances from different regions of Mexico. Many of the students Escamilla works with come from low-income homes and view the club as their family because they enjoy spending time together and their involvement in the club keeps them out of trouble. A club free of cost to all is Escamilla's goal and she uses her PR knowledge to gain coverage for the club and ultimately donations to obtain that goal.
About Marketing Maven Public Relations
Bicoastal PR firm, Marketing Maven Public Relations, Inc. is an innovative and exclusive public relations agency that under promises and over performs. Founded by Lindsey Carnett in 2009, the agency specializes in lifestyle and consumer products, companies and events. Additional services include hospitality and gaming PR, social media campaigns, reputation management, direct response marketing, SEO, celebrity gifting and Spanish media relations. Marketing Maven Public Relations, Inc. develops newsworthy mainstream issues relevant to the clients' product or service. With offices in New York, the agency then creates media interest and delivers the clients' message to the masses, creating a demand from the target demographic.
Marketing Maven Public Relations, Inc. also has an expertise in Direct to Consumer marketing as well as product development and PR for supplements and ingredients. The agency has the ability to earn product distribution at retail and helps find funding for national product launches. With representatives across the globe, the Marketing Maven Public Relations, Inc. team has strong relationships with local, national and international media. Visit http://www.MarketingMavenPR.com for more information about the company.
# # #