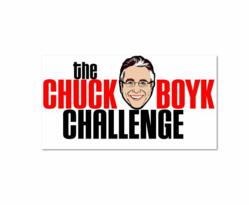 Toledo, Ohio (PRWEB) December 21, 2012
The Chuck Boyk Challenge is an ongoing charity event aimed to highlight local charities. It works by asking citizens to vote for their personal favorite organization. The top 3 charities with the most votes will win cash prizes totaling $5,000. Attorney Charles Boyk had initially announced the first three charities participating, he has now announced charities 7, 8, and 9. There are a total of 15 charities participating. Here are the next charities participating:
7. St. Jude Children's Hospital
The mission of St. Jude Children's Research Hospital is to advance cures, and means of prevention, for pediatric catastrophic diseases through research and treatment. Consistent with the vision of their founder Danny Thomas, no child is denied treatment based on race, religion or a family's ability to pay.
8. The Padua Center
The Padua Center began in October 2006 in the recently vacated rectory of St. Anthony of Padua Parish. Immediately the Center developed a tutoring program and by summer a community garden, five summer camps and a neighborhood survey, with the expertise of a Qualitative Research Class from the University of Toledo were completed.
9. Susan G Komen For the Cure-Northwest Ohio
They are the Northwest Ohio Affiliate of Susan G. Komen for the Cure. Their vision is a world without breast cancer. Thanks to community support over the past 19 years, the Northwest Ohio Affiliate has funded $8 million in local grants for life-saving breast health education, screening and treatment.
For a full list of the charities involved, visit http://www.thechuckboykchallenge.com