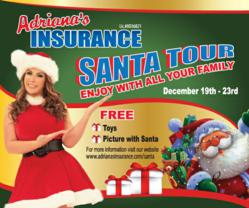 Adriana's Insurance is proud of helping and give hope to all these children and their families.
Los Angeles, California (PRWEB) December 21, 2012
Adriana's Insurance will be giving back to the community by giving away 5,000 toys to children and giving families the opportunity to take a picture with Santa Claus. These events are free of charge.
So far they have visited three cities and had great success. The tour has gathered more than 4,000 people in all of the events. The final events of this experience they will be located at one of their locations in Fontana, California and will be finishing off the tour in Los Angeles.
Adriana Gallardo, Founder and CEO of Adriana's Insurance, will be present at these two events which will take place in Fontana at 10016 Sierra Ave. Fontana CA, 92335 and in Los Angeles at the St. Frances Xavier Cabrini Parish, She will be giving away toys to all children and taking pictures with their families.
Adriana Fregoso has always put great an emphasis in helping others. This is not the first time that she has been involved in charity events for children; she recently donated $ 10,000 to "Teleton," an organization dedicated to build hospitals for physically challenged children. She has also created her foundation "Adrianas Decisión Ayuda," through which she has worked along side St. Jude Hospital helping kids overcome cancer.
Adriana's Insurance is a socially involved company that goes to great lengths to help and give back the community, that is what has kept them, growing strong as a business for over 20 years. They will never stop helping the ones in need because in words of her own: "Adriana's Insurance is proud of helping and give hope to all these children and their families."
In the near future Adriana's Insurance will be expanding their business to more region. They also have plans to go national hoping to help more people with their insurance needs as well as the community with charity events.
To find more information about their good deeds you can visit their website at http://www.adrianasinsurance.com and join their efforts in helping all communities.