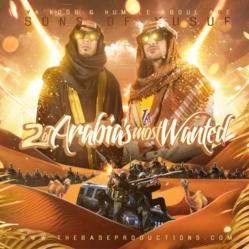 Miami, FL (PRWEB) December 21, 2012
Ya'koob and Humble Abdul have released the "2 of Arabia's Most Wanted" mixtape. The 19 track project, presented by Coast 2 Coast Mixtape Promotion, is now available for download.
Ya'koob and Humble Abdul were born in Kuwait and raised in Los Angeles. Growing up, the brothers were inspired to pursue music by their father who often took them to studios where they were surrounded by jazz musicians. This experience encouraged Ya'koob to learn to play the trombone and write his own music while Humble was encouraged to play the saxophone. Once introduced to the hip-hop culture, Ya'koob used the music to express himself and introduce the Arab culture through his lyrics.
At the age of 14, Ya'koob signed with the Alien Records label and released his first album "Reprezentin" with the group Army of One. The album sold out all over the Middle East and gave Ya'koob courage to pursue his passion of a career in the music industry. At 16, he started making his own beats influenced by producers JDilla and Kanye West. During this time he teamed up with sound engineer Mike Chav from Detroit. They produced beats for several artists including Erykah Badu and Jay Electronica who suggested the name "The Base" be used by Ya'koob. The name means Al Queda in Arabic and was chosen to help change the world's perspective of Arabs and Muslims. In 2009, Ya'koob, Mike Chav and Amp Fidler received placement of their production in the HBO short film "The Hand Off" directed by Joslyn Rose Lyon.
Ya'koob is the founder of The Base Productions. He uses his music as a platform to counter stereotypes about the Middle East. He teamed up with his brother Humble Abdul to create the "2 of Arabia's Most Wanted" mixtape (The Base Mixtapes Vol. 1). He plans to continue his work with his brother under the name Sons Of Yusuf. The project is now available for download and streaming. Keep up with all updates and checkout their videos by visiting the Base Productions website.
About Coast 2 Coast Mixtapes
Coast 2 Coast Mixtapes are the most widely distributed mixtapes in the world, with over 100 million downloads/plays generated by over 200 volumes officially hosted by major artists. Coast 2 Coast has a solid reach in the new music industry with a digital magazine, DJ coalition, industry tips blog, yearly convention, and more. Coast 2 Coast Mixtapes represents a unique opportunity for artists of all urban genres, from major to indie. For more information, visit http://www.coast2coastmixtapes.com.
###