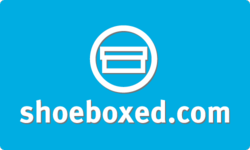 We've found a tremendous and growing need for the service that Shoeboxed provides.
Durham, NC (PRWEB) December 31, 2012
Shoeboxed, the industry leader in cloud-based receipt scanning, finished 2012 having processed over 4,273,000 receipts and business cards for small business owners worldwide. The Durham, N.C.-based company reported that the dollar amount of these receipts totaled an impressive $550,000,000, and that 73% of these submissions came through the service's popular prepaid mail-in service.
A near tripling in document submissions was only one highlight of Shoeboxed's extraordinary 2012. In addition to seeing considerable growth in its user base, the web-based service also doubled the size of its team, launched new partnerships with Intuit QuickBooks and Wave Accounting, announced a brand new Signature Evernote Plan, released a completely redesigned mobile app and opened a small office in San Francisco, California.
As the year comes to a close, Shoeboxed CEO Taylor Mingos says that he's thrilled with the company's growth in 2012 and is anticipating an even stronger 2013. "Our explosive growth this year has been the result of our team's hard work and continual focus on saving small business owners time and money," said Mingos. "We've found a tremendous and growing need for the service Shoeboxed provides and our team is hard at work building new features that will help our users be that much more successful in their pursuits," he added. "I'm very excited for 2013 and am confident it will be another phenomenal year for Shoeboxed."
About Shoeboxed
Since 2007 Shoeboxed has been the preferred small business expense tracking solution for over 500,000 users worldwide. The pioneers of cloud-based receipt scanning, Shoeboxed saves small business owners time, money and hassle by turning receipts into an organized, categorized, IRS-accepted archive of secure data.
Shoeboxed offers a fully functional free plan, as well as premium plans that include a prepaid mail-in service for physical receipts. Shoeboxed also accepts receipts via their free smartphone apps, through their free desktop uploader, or at receipts (at) shoeboxed (dot) com. Shoeboxed is based in Durham, North Carolina, and has growing offices in both San Francisco, California, and Sydney, Australia.
To learn more, please visit https://www.shoeboxed.com today.