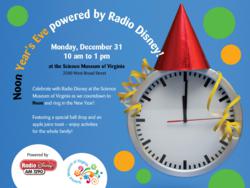 (PRWEB) December 28, 2012
10!... 9!... 8!… Our countdown begins as the clock nears 12 — noon that is — as we present our family friendly festivities. At the strike of noon, we'll drop 2,013 brightly colored bouncy balls, shoot off confetti cannons and blow noisemakers to celebrate the New Year with Radio Disney!
Noon Year's Eve Powered by Radio Disney is at the Science Museum of Virginia, Monday, December 31, 10 am-1 pm. Our Noon Year's Eve celebration is the perfect time to make 2013 your healthiest year yet. We're featuring kid's activities to help our guests determine how their bodies measure up and how hard their hearts work — and of course there is plenty of dancing to favorite Disney tunes to keep everybody moving! Shortly before noon everyone gathers in the Rotunda to pick up juice for a toast, courtesy of Fruit 66, and prepare for a spectacular ball dropLook for special exhibits are from VA 529 and Richmond Family Magazine. It's the perfect celebration for families who want to party mid-day!
Also - you won't want to miss a special live performance by George Dennehy in Guitar: The Instrument That Rocked The World at 1 pm.
Noon Year's Eve Powered by Radio Disney is included with exhibit admission. Tickets are $11 with $1 discounts for ages 4-12 and 60+. For more information visit http://www.smv.org or call 804.864.1400.
Science Museum of Virginia, 2500 West Broad Street, Richmond, VA