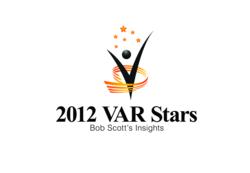 Alpharetta, Ga. (PRWEB) December 22, 2012
InnoVergent, has been selected as a member of the Bob Scott's VAR Stars for 2012, a group of 100 organizations honored for their accomplishments in the field of midmarket financial software
"I am very proud of our achievement this year, as it validates our strategic direction as it pertains to our clients and valued partners", said CEO of InnoVergent Paul Cammisa.
Members of the VAR Stars were selected based on factors such growth, industry leadership and recognition, and innovation. Selection is not based on revenue and those firms chosen represent a wide range of size and many different software publishers of accounting software.
"Each year, 100 VAR Stars are picked from the best organizations that market financial software. It is always an honor to recognize those who contribute to the development of our business," Bob Scott said.
About Bob Scott
Bob Scott has been informing and entertaining the mid-market financial software community via his email newsletters for 13 years. He has published this information via the "Bob Scott's Insights" newsletter and website since 2009. He has covered this market for 21 years through print and electronic publications, first as technology editor of Accounting Today and then as the Editor of Accounting Technology from 1997 through 2009. He has covered the traditional tax and accounting profession during the same time and has continued to address that market as executive editor of the Progressive Accountant since 2009.
About InnoVergent
Established in 2006, InnoVergent is a technology consultancy firm composed of a team of experts that specialize in serving small to medium sized companies. InnoVergent specializes in ERP implementation, CRM services, and product integration for our cloud-based accounting and financial solutions. At InnoVergent, we pride ourselves on our commitment to customer satisfaction, and we firmly believe that this is paramount to our success. The extensive and eclectic array of skills we provide will deliver undeniable results of increased revenue and efficiency within your business. Therefore, InnoVergent is not only ideal choice, but the smart choice as well.