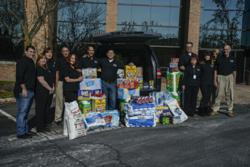 We greatly appreciate AEPG's continued support.
Warren, NJ (PRWEB) December 23, 2012
AEPG® Wealth Strategies began their efforts to help the victims of Hurricane Sandy back on Friday, November 9, 2012, when employees packed up founder & president, Steven W. Kaye's, truck with over 250lbs of food, drinks, toiletries to donate to the Hillside Food Bank.
In its almost 30 years of business, AEPG has frequently donated food and necessities to the Hillside Food bank but knew that this year they knew they could do more. The employees pooled their donations and on December 5, 2012, with AEPG's matching donation, they were about to donate over $1,500 to the Community Foodbank of New Jersey.
"I am very proud of the staff at AEPG Wealth Strategies for their continued dedication to helping the victims of Hurricane Sandy and all who are in need," said founder & president, Steven W. Kaye.
In the first three weeks after Hurricane Sandy, the Community FoodBank delivered twice as much food as it normally would have. For the next several months, the FoodBank expects that many of the poor and low-income who face losses or extra costs because of the storm will continue to turn to the FoodBank and its network of agencies for meals and groceries.
"We never forget that it is only with the help of many like-minded individuals, organizations, foundations and corporations, including AEPG, that we are able to provide disaster-relief for those who need it after Hurricane Sandy," said Kathleen DiChiara, President and CEO of the Community FoodBank of New Jersey. "We greatly appreciate AEPG's support."