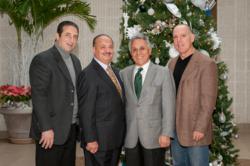 We are blessed to be on the giving side rather than the receiving and it is an honor for us to be part of this event.
Woodbury, NY (PRWEB) December 26, 2012
The Scotto Brothers have certainly made a name for themselves on Long Island and this year, they will be honored for their hard work & dedication at the 2013 Long Island Hospitality Ball.
The Scotto Brothers came to the US from Italy in the 1960's and worked their way to owning several catering facilities, restaurants and hotels. Today they are considered pioneers in the hospitality industry and set the standard for quality and service. Anthony Scotto owns three of Long Island's top steakhouses: RARE650 (Syosset), Blackstone Steakhouse (Melville) & Insignia Steakhouse (Smithtown). Together, the brothers own The Fox Hollow.com (Woodbury), The Inn at Fox Hollow (Woodbury) and Chateau Briand Caterers (Carle Place). Each of these venues are owner operated and provide only the finest cuisine and services available.
ABOUT THE HOSPITALITY BALL:
The Long Island Hospitality Ball was founded by Keith Hart in an effort to raise awareness and funds for the American Cancer Society. Each year, Long Island's top restaurants, catering venues and industry suppliers come together for a night of celebration with great food, drinks and dancing. For its inaugral year (2011), the Hospiatlity Ball raised $170,000 and in 2012 another $240,000! For more information visit: http://longislandhospitalityball.org/
ABOUT THE AMERICAN CANCER SOCIETY:
As a leader in cancer control since 1913, the American Cancer Society is committed to saving lives from cancer and reducing the global threat of the disease. We combine our relentless passion with the wisdom of experience to make this vision a reality by focusing on countries with the most need and where measurable results can be achieved. We know that cancer is one of the most preventable — and the most curable — of major chronic, life-threatening diseases. We recognize tobacco as the single most preventable cause of death. We're working to reduce the incidence of tobacco-related cancers in low- and middle income countries with a special emphasis on sub-Saharan Africa. In collaboration with a worldwide network of partnerships, we are urging governments and international organizations to recognize that cancer is a global priority requiring an urgent response.