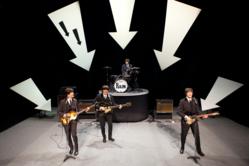 "The next best thing to seeing The Beatles." Associated Press
Modesto, CA (PRWEB) December 24, 2012
The internationally acclaimed "RAIN: A Tribute to The Beatles" takes the stage at the Gallo Center for the Arts Tuesday through Thursday, January 15 - 17. All performances are at 7: 30 pm.
Tickets are on sale now and range from $29 to $99. Groups of 15 or more are eligible for a 15% discount. For tickets and more information, visit GalloArts.org or call (209) 338-2100.
'RAIN' presents the full range of The Beatles' discography, including the most complex and challenging songs that The Beatles themselves recorded in the studio but never performed for an audience.
Together longer than The Beatles, 'RAIN' has mastered every song, gesture and nuance of the legendary foursome, delivering a note-for-note performance that's as infectious as it is transporting. The group has a repertoire of more than 200 Beatles songs. The music is performed live, with no prerecorded tapes or sequences, and includes early hits to later classics ("I Want To Hold Your Hand," "A Hard Day's Night," "Sgt. Pepper's Lonely Hearts Club Band," "Let It Be," "Come Together," "Hey Jude" and more).
This concert event is sponsored by Wells Fargo. The Gallo Center for the Arts' 2012-13 Premier Partner is Boyett Petroleum.