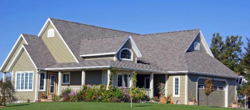 One of the biggest benefits to homeowners and businesses who use the new shingle is that is mold resistant.
Columbus, Ohio (PRWEB) December 21, 2012
A roofer in Columbus, Ohio has brought a new roofing shingle to market that is leagues ahead of the competition. The Atlas Pristine roofing shingle is a brand new shingle that can be used on new roofs and roof replacements in Columbus and the surrounding area. One of the biggest benefits to homeowners and businesses who use the new shingle is that is mold resistant.
The effect is reached through a unique manufacturing process that injects copper into the inner layers or the shingle. Copper prevents mold from forming between and on the shingles. Because of the quality of the materials used and because Atlas knows that only trained professional Columbus, OH roofing contractors will be installing the shingle, the Atlas Pristine shingle comes with a lifetime warranty of 50 years. In the harsh climate extremes experienced in central Ohio, most roofing shingles are expected to last 20 years or so. They are also not resistant to mold, so the warranty offered on other products that could be used in place of the Atlas Pristine line is usually only 10 or 15 years.
Many may know that mold is dangerous—especially in homes and businesses, but they do not understand the full set of risks involved. Mold can cause allergy type symptoms such as watery eyes, running nose, sneezing, coughing, wheezing, headaches, and fatigue. Repeated and prolonged exposure to mold can cause people to become more sensitive and can damper their immunological response. The risks are greater for anyone with underlying medical issues including those with asthma, allergies, weakened immune systems, as well as the elderly and young. Some mold produce toxins, which can lead to more serious conditions, even in healthy people.
Homeowners in Ohio may not even realize they have mold for a long time, but mold growing on the roof and under shingles can make it into interior parts of the roof and then into their homes. Those who suffer from roof mold may notice their allergies worsen during warmer and wetter times of the year, which is normal, but those issues being worse at home than other places is a sign that the home will need inspected. In fact, many people see the mold on their roof almost every day and do not realize what it is. Over time, roof shingles seem to develop a pattern of dark or black streaks. People often look at this as patterns of where rain water runs and as if the lighter areas have faded. Often times, the dark spots and streaks are actually colonies of mold.
Clancy Malone, founder of Atlas Roofing in Columbus, OH states, "The new line of Atlas Pristine roofing shingles revolutionizes the market. They are made stronger and better than other shingles and they have the added copper bead to combat mold growth, which is great. This means that a single product can improve the home's appearance, protect the health of those who live there as well as neighbors, and last longer, providing an overall better return on investment than anything else on the market."
He continues to explain that the Atlas Pristine is available in different colors and styles, so it can match just about anyone's idea of a new, perfect roof. They have been thoroughly tested, and they are just another way Atlas Roofing & Experience continues to live up to their commitment of providing their customers only the best.
As the winter months continue, many homeowners will consider new roofs and roof repairs in Columbus, OH, especially as ice and snow make leaks visible and the cold drafts find their way into upper stories and attics. Just in time for the new year, Atlas Roofing & Exteriors announces the coming of their new, best in class roofing shingle that is going to be something competitors will be trying to emulate for some time to come. For now, there is only one Atlas Pristine roofing shingle.
About Atlas Roofing & Exteriors: Based in Columbus, OH roofing, siding, gutters, and windows are common tasks for Atlas Roofing & Exteriors. They were founded in 2003 by professional roofing and building contractors who were upset to see how homeowners were being treated by larger firms. They wanted to take things back to the way they used to be—the way they should be—and treat customers with the utmost respect and care, putting the effort and time in as if they were working on a loved one's home. Since then, they have earned a strong reputation for providing quality, reliable, and affordable services.