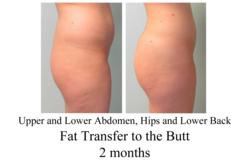 Through research and innovation, MyShape Lipo is now doing what was once thought to be impossible.
Las Vegas, NV (PRWEB) December 31, 2012
Bigger butts seem to be a pop phenomenon that is sweeping the nation. Celebrities like Kim Kardashian, Coco, and Jennifer Lopez are leading the way to acceptance of a fuller backside. For those blessed with an itty bitty waste and a big butt, they are in their glory days. For the rest of us common folk there is now an affordable safe way to improve our shape.
In the past the only option for a bigger butt was implants, which comes with a plethora of risks and an unnatural look and feel to the buttocks implant. Not to mention, the outrageous cost and long recovery that accompany this procedure. Fortunately, there is a better option, the Brazilian Butt Lift or fat transfer to the buttocks.
This new procedure offers a slue of benefits over it's predecessor. Since the fat is actually removed from the patient and re-injected into the butt there is little risk of rejection. Because it is their own fat, the results are also much more natural looking. In addition to a bigger backside, patients will also get a reduction in the area they choose to harvest the fat, commonly the waist.
The big breakthrough comes from the team at MyShape Lipo of Las Vegas. Through experience and innovation, they have developed a new technique to perform the Brazilian Butt Lift under local anesthesia in an office based setting. The new procedure reduces risk factors and significantly reduces the patient cost. This has opened up possibilities to a much larger population further increasing the popularity of the procedure.
The significant risks of general anesthesia have been completely averted by the use of local anesthetic. Since the procedure can now be done in an office base setting, the costs of anesthesia and hospital fees are eliminated which has slashed the cost of the procedure nearly in half.
At the recent International Fat Grafting Conference in New Orleans, it was said to be impossible to perform this procedure while the patient is awake. That didn't stop Trevor Schmidt PA-C, the specialist at MyShape Lipo. He believed that it was possible and has proven the safety and results through over 100 fat transfer procedures.
This procedure is also available for fat transfer to the breasts, aka natural breast augmentation. the concept is essentially the same and the results are comparable. For those that are contemplating a larger butt or more voluptuous breasts, there are now better options to consider.
MyShape Lipo offers complementary consultations in office and by phone. They can be reached at 702.818.5476. To see their before and after liposuction and fat transfer galleries, visit them online at http://www.myshapelipo.com.