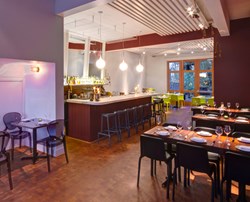 "Quick arrival at 'Opening Night" is mission critical for restaurant ventures," said Hammer & Hand CEO Daniel Thomas. "So to succeed in restaurant design and construction you've got to enjoy the sprint."
Seattle (PRWEB) December 26, 2012
Today, Portland and Seattle remodeling contractor Hammer & Hand unveiled a new portfolio of restaurant design and construction projects showcasing five recently-completed restaurant renovations designed by three leading restaurant designers and architects for four thriving Portland restaurant entrepreneurs. Each restaurant renovation demanded speedy work by both builder and designer.
"Quick arrival at 'Opening Night' is mission critical for restaurant ventures," said Hammer & Hand CEO Daniel Thomas. "So to succeed in restaurant design and construction you've got to enjoy the sprint."
Hammer & Hand's restaurant build-out for Portland ice cream rising star Salt & Straw, designed by Portland architect John Cooley, was no exception.
"It's an ice cream shop, so we recognized that the bulk of the owner's business happens in a 4-month window," said Hammer & Hand project supervisor Kevin Guinn. "Our job was to get in, get out, and get her open. The shop opened the second week of August, just four weeks after work started."
As a high performance building specialist and Passive House builder, Hammer & Hand's restaurant build-outs also focus on energy performance and user experience, as at the Xico restaurant, completed in partnership with Scott|Edwards Architecture.
"The new restaurant's energy savings support Xico's sustainability ethos," said Thomas. "But equally important is the quality of the experience inside the restaurant. We worked to create a human space, where the nature of the air and atmosphere put you at ease."
In addition to the aforementioned Xico and Salt and Straw build-outs, Hammer & Hand's new restaurant design and construction portfolio includes Salt and Straw NW, Nuvrei Patisserie (designed by bright designlab), and an upcycled furniture installation for Portobello Vegan Trattoria.
To view these projects and learn more about the five restaurant renovation projects, visit http://hammerandhand.com/commercial-remodel_restaurant.
About Hammer & Hand
Hammer & Hand is a construction company dedicated to inciting evolution in building through service, science and craft. The firm collaborates with clients and architects to build the best of the Northwest, from new custom homes, to residential remodels, to commercial renovations.
Hammer & Hand Portland
1020 Southeast Harrison Street
Portland, OR 97214
http://hammerandhand.com
(503) 232-2447
Hammer & Hand Seattle (at The Bullitt Center)
1501 E Madison St, #250
Seattle, WA 98122
http://hammerandhand.com/seattle
(206) 397-0558