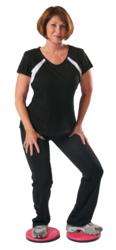 Bakersfield, CA (PRWEB) December 22, 2012
The MoChi "Twist-a-Mania" workout program is the ultimate gift that offers health benefits throughout the entire year. It's perfect for everyone -- men, women, children, and seniors -- because the high-energy, fat-burning, music-driven, fun workout can be done at home, school or the office. MoChi is above and beyond just home fitness.
MoChi Fitness is fun and affordable so giving the gift of health will be easy this year. The revolutionary fitness specialists even paired up some great fitness accessories to complement each level of fitness you're gifting, and it's all under $100!
For the Beginner - Less than $50
This gift idea is for friends and family that keep saying they'll sign up for a gym membership but never do. Gifting a Single MoChi Twister and Twist-a-Mania DVD, will bring the gym to their home and get them moving. The awesome filtering waterbobble will also make drinking water fresh and fun.
Single MoChi Twister is now $19.99, the Fit & Fun #1 By Dawna, Twister Routine on DVD is priced at $14.99 and the Syd Waterbobble is now$12.
For the Go-Getter - Less than $70
Got a friend who's determined to lose their extra weight and stay healthy? The MoChi Fitness Starter Package (with two twisters, G.I.F.T. dial, DVDs, and Eating Right book) will motivate them to move and eat right. Top off the gift with a fit book pink edition to help journal the way through healthy living.
MoChi Fitness Starter Package is $39.99. The fit book PINK: fitness + nutrition journal ($4 of the purchase is donated to breast cancer research) is now available for $24.99
For the Fighter - $90
Feed your friend's fitness frenzy with the MoChi Fitness All-in-One Package. They can twist their way through 4 jam-packed DVDs, listen and read all about healthy eating, and tote their fitness everywhere they need to go. Give them a resistance cord to stretch their fight for fitness across the board.
MoChi Fitness All-in-One Package is now $69.99 and the Reebok Braided Resistance Cords are just $19.99.
Being active in short intervals several times throughout the day is just as important as a pre- or post-workout sweat session. According to the American College of Sports Medicine, being sedentary for several hours daily can cause health issues like heart-disease and depression.
Keeping the body in motion with a 5-10 minute exercise breaks three to four times throughout the day can make a difference in overall health. With the portable MoChi "Twist-a-Mania" program anyone can conveniently transport the twisters to school or to the office making it easy to power up the motion in your body and offering health benefits that can add years to a lifespan.
For more information about the best workout gift ideas for the holidays and to learn more about how the MoChi Fitness system individualizes cardio workouts on the go and home fitness routines, visit http://www.mochifitness.com
About MoChi Fitness "Twist-a-Mania"
The MoChi Fitness "Twist-a-Mania" system is a revolutionary, low cost workout method that can be used almost anywhere by anybody regardless of your age or fitness level. It uses elements of dance with core strengthening movements to create a comprehensive, successful fitness program. Not only does it benefit athletes but is an ideal exercise routine for women and men on the go, those with injuries or impairments requiring low-impact on joints, and is also a great exercise for pregnant women who want to remain active but lessen physical stress. Want a home fitness routine but have limited space? The MoChi Fitness system requires only a few square feet of space to be utilized successfully. Use MoChi twisters whenever, wherever, home, school, or the office and see the results come flying in!