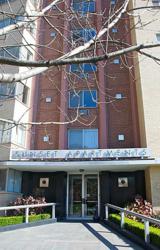 Kansas City, Missouri (PRWEB) December 28, 2012
Terra Management Offers Kansas City Apartments For Rent At Sunset Apartments.
Sunset Apartments are located at the breathtaking Country Club Plaza in Kansas City, MO. The apartments are a casual stroll away to the city where renters can enjoy shopping, a diverse array of restaurants, theaters, parks, and all the excitement Kansas City has to offer. A few examples would include the Nelson Art Gallery and the Contemporary Museum of Art. Renters also are captivated by special events, such as the annual Plaza Lighting ceremony.
These Kansas City apartments for rent are located in a small, quaint boutique-style building with 10 floors and 38 apartments, offer access to a new workout facility, and include the convenience of onsite rental management. The building's atmosphere exudes a warm, inviting atmosphere.
These luxurious, affordable Kansas City apartment rentals are affordable and offered by the friendly team at Terra Management. In addition to the Plaza, Terra Management offers apartment rentals in the Art Gallery, Historic Hyde Park, and the Westport areas. Terra's team offers a unique combination of affordability, luxury, and convenience with each apartment rental and engrain in their business model, and a dedication to serving each renter in the best way possible.
Terra Management is a locally owned and operated rental company specializing in multifamily living, mixed use commerce space, and luxury condominium conversions in the Kansas City, MO Area. Terra Management's roots are based in preservation of vintage properties. Terra Management has been improving Kansas City apartments for rent for over thirty years.
The owner and President of Terra Management is Dan Weindling. Dan's commitment to provide high quality, convenient, and affordable apartment rentals was instilled by his father, Israel. The Weindling family is dedicated to serving the residents of Kansas City and Sunset Apartments are their latest effort.
To find out more about Sunset Apartments for rent or other Kansas apartments for rent, contact Terra Management at 816.561.9210.