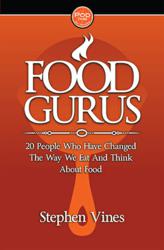 An intriguing dip into the lives and obsessions of an eclectic round-up of ancient and modern food heroes...
Hong Kong (PRWEB) December 22, 2012
In his new book, Food Gurus: 20 People Who Have Changed The Way We Eat and Think About Food, restaurateur and food author Stephen Vines satisfies your craving for food history. Vines also gives food enthusiasts a "taste" of stories of innovations and inspirations from the kitchen.
In Food Gurus, Vines profiles 20 of the most notable movers and shakers of the culinary industry and their signature recipes, career advice, and business strategies. This ultimate food tome features Ferran Adria, Robert Atkins, James Beard, Isabella Beeton, Paul Bocuse, Antonin Carême, Julia Child, Elizabeth David, Georges Auguste Escoffier, Henry Heinz, Raymond "Ray" Kroc, Catherine de Medici, Jaime Oliver, Marguerite Patten, Carlo Petrini, Bartolomeo Platina, Fernand Point, Gordon Ramsay, Delia Smith and Alice Waters, all of whom have changed the history of food and contributed to the evolution of the kitchen.
Vines is the owner of a Hong Kong restaurant chain that includes canteens, coffee shops and bars. He has lived in Hong Kong since 1987, first as a journalist before venturing into the food business. He developed a fascination for the big names behind the food industry who are not just famed cooks, but also great writers and accomplished food business owners with significant influence in today's concept of eating.
This fascination is manifest in Food Gurus, available in Amazon's Kindle Store. Lindsey Bareham, The Times T2 writer and cookery book author, described Food Gurus as "An intriguing dip into the lives and obsessions of an eclectic round-up of ancient and modern food heroes whose tastes affect ours. Easy to digest, great recipes, and some surprises."
According to Paul Levy, co-author of The Official Foodie Handbook, "Stephen Vines choice of gurus is canny, amusing and well-researched, telling the reader not only about his heroes' virtues, but also their clay feet—Escoffier's larceny, Petrini's personality cult, Delia's dullness and Catherine de Medici's shaky claim to the French culinary throne."
"Good food used to be the preserve of the wealthy and some would argue that food snobbery means that is still the case today. We have more TV shows on cooking than ever before but cook less than ever before," says Annabel Jackson, food culture author and convivium leader, Slow Food Hong Kong. "These are just some of the ideas uniquely sharing space in a single book. It is a fascinating read which reveals how the first celebrity chef has influenced every chef since, and how every key food figure has influenced our relationship with food, even without our knowing it."
Indulge in gastronomic delight as you read through the stories of 20 personalities who have transformed the way food is seen, styled and served. The Kindle edition retails for US$6.99. Visit Food Gurus at Amazon to purchase a copy.