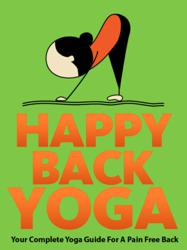 Julie Schoen's latest book, Happy Back Yoga: Your Complete Yoga Guide For A Pain Free Back, guides the reader through mini yoga classes specifically targeted to keep backs healthy and happy
Albuquerque, New Mexico (PRWEB) December 22, 2012
Julie Schoen is more than familiar with helping people recover from back injuries and pain. As a teenager, Schoen was in a serious hit-and-run accident that left her with a seriously injured spine. Author of the new book, Happy Back Yoga: Your Complete Yoga Guide For A Pain Free Back, Schoen explains how yoga helped her recover from her injuries and reveals the yoga workouts that she continues to do on a regular basis that keep her back healthy and happy. This concise guide is being published as part of Little Pearl Publishing's "Just Do Yoga" series, and will be featured on Amazon this weekend for free. The third book in the series, Schoen is turning into Amazon's yoga authority, with many of her books featured on front pages and best-selling lists.
For years after the accident, Schoen lost much of her athletic ability, forcing her to give up her dreams of collegiate athletics. Through yoga, Schoen not only healed her back, but also began her journey to understanding the important role the spine plays in overall health.
"I'm actually thankful for the accident and my injuries," explains Schoen. "It lead me to yoga, which has become one of the major passions in my life. I have learned to appreciate the beauty of the human body, each bone and muscle contributing to our ability to live a long healthy and happy life. "
The spine, says Schoen, is the most important part of the body, functioning as the source of youth and health.
The practice of yoga, which has been around for centuries, revolves around the health of the spine. Eastern medicine and science believe that the spine is the main energy channel in the body, which is why so much time is spent in yoga working on lengthening and straightening the spine to help the energy flow more efficiently.
Happy Back Yoga does what many yoga books cannot – it speaks from a perspective that both acknowledges the energetic Indian sciences while also understanding that the majority of people who come to yoga are simply seeking the benefits, without wanting to be lectured on the subtle body sciences. Schoen speaks from first-hand experience, making this guide an honest approach to wanting to help others free their backs from pain. With beautiful photographs of Schoen herself, the book lends itself to becoming a daily reference for how to keep our backs healthy and happy.