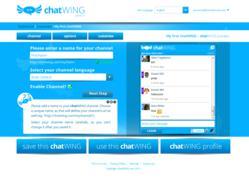 Dallas, TX (PRWEB) December 22, 2012
Thousands of application developers are now competing to gather much attention from web surfers across the world. These developers often invest on long-term marketing campaigns, shedding dollar after dollar. To ease their marketing burdens, the Chatwing team has launched a chat software capable of improved global connection. This chat application also uses social media factor, granting leverage for all of its users.
Application developers can use the Chatwing chatbox for their online marketing campaigns because of the global connectivity that it can offer. Chatwing's visitors can simply log in with their Facebook or Twitter accounts. This gives way for new social horizons, as application developers can join social media communities and expand their marketing campaigns. Moreover, the developers can discuss their application features in the Chatwing chatroom.
Installing the shout box is easy; the first step is registration, wherein the user needs to register his blog or website's domain name. Email address is also required. The second step is the widget customization. In this phase, the user can edit the colors and sizes freely. He can also set up word filters to avoid profanity in the chatroom. Chatwing app also allows users to upload a background image and an MP3 song link. The last step is the actual usage of the finished widget—the user can select from three styles: shoutbox, pop-up window, or vanity URL.
Application developers are not just the sole targets of the Chatwing chat box. Lately, the Chatwing Dev Team has noticed that online marketers have started using the chat app. Wasting no time, Chatwing's developers have started mapping a strategic plan to create more upgrades for Chatwing chat app.
About Chatwing.com
Chatwing.com specializes in the new field of website chat. Over years, the Chatwing team has introduced live chat widget for hundreds and thousands of blogs. The Chatwing application bridges people from many parts of the world, creating global synergy through the Internet. The shout box can be installed in just seconds, and it can be used for varying purposes such as leisure and Internet marketing. It also allows a user to customize the size, color, and name of the widget.