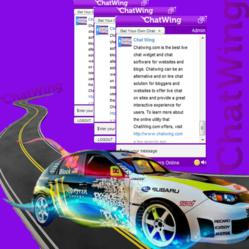 New York, NY (PRWEB) December 22, 2012
The Chatwing Development Team has recently noticed that Facebook groups comprise a large percentage in Facebook alone. Many people are now creating Facebook groups to explore different niches and find new social contacts. More often than not, Facebook group makers invite people to share their suggestions and interests. With this fact, the Chatwing Team has launched a chat software that can be used as Facebook group expansion tool. The Chatwing chat app is customizable and can be installed easily.
Dedicated Facebook group makers often have blogs that can discuss their topics further. Chatwing's free chat box can be installed in this blogs or websites. Installing the Chatwing chat app takes only a few seconds to accomplish. After website registration, the user can now proceed to the Chatwing dashboard and modify the appearance of the widget. He can edit the colors and sizes independently. Adding to that, the user can also set up word filters. Background images are also available.
Chatwing's free chat widget can be used for many online purposes. One of these common purposes is online marketing. An average Chatwing http://w ww.chatwing.com [shoutbox __title__ shoutbox] can accommodate thousands of users, sparking one discussion after another in just seconds. Visitors can also use the Chatwing chatroom to share important links. Restrictions depend on the Chatwing admin and his team of moderators. The Chatwing chatbox allows unlimited moderator setup for everyone.
About Chatwing.com
Chatwing.com specializes in the new field of website chat. Over years, the Chatwing team has introduced live chat widget for hundreds and thousands of blogs. The Chatwing application bridges people from many parts of the world, creating global synergy through the Internet. The shout box can be installed in just seconds, and it can be used for various purposes, from social activity to Internet marketing. It also allows a user to customize the size, color, and name of the widget.