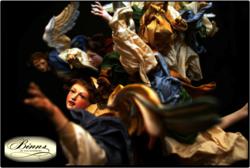 La Scarabattola has never before accepted and partnership or affiliation with another brand or organization
Williamsburg, Virginia (PRWEB) December 24, 2012
As of December 2012, Binns of Williamsburg, a luxury fashion, tabletop and holiday home specialty store located in the heart of Colonial Williamsburg's Historic Triangle, has been chosen as the exclusive North American dealer for the exquisite La Scarabattola Neapolitan angels and nativities. As their work takes remarkable skill and is highly limited, La Scarabattola has never before accepted any partnership or affiliation with another brand or organization. It was Thomas Smith's; Assistant CEO at Binns, appreciation and passion for traditional European craftsmanship that prompted frequent visits to the La Scarabattola workshop in Naples, Italy and convinced the Scuotto Brothers to partner jointly in the US, stretching their wings to North America.
Celebrating the beauty and glory of the finest Italian craftsmanship, Binns decided to artfully display their Neapolitan Angels on a tree soaring 20 feet tall, rising above a phenomenal hand-carved Baroque figural nativity scene. All of the figures are made using centuries old hand-sculpting techniques with extraordinary attention to detail. Each figure is one of a kind -- their faces, hands and feet are made with terracotta, their glass eyes are baked in during firing. The figures' adornments and hand-sewn lavish silk robes are embellished with sterling silver detailing. The angels' wings are carved from wood. All components are made locally in their workshop in Italy. Other than the Metropolitan Museum in New York City, this is the only other known large-scale Angel Tree on display in the United States.
The Nativity scene is said to have originated with St. Francis of Assisi in 1223 in Italy, and carving figurines for nativity scenes started in the late 13th century when Arnolfo di Cambio was commissioned to carve marble nativity figures for the first Rome Jubilee held in 1300. Naples became the capital of nativity scenes when Charles III commissioned a Neapolitan workshop to create the first artistic nativity scene in 1700.
The La Scarabattola art group was founded in 1996 in Naples. After just 3 years the family company (The Scuotto Brothers) was chosen by Juan Carlos, the King of Spain, to craft a large collection of sculptures for the nativity scene at the Royal Palace of Madrid. After this splendid occasion, The Scuotto Brothers' art studio La Scarabattola has become the most important workshop for the creation of sculptures for nativity scenes in the world. Furthermore, La Scarabattola has received a silver medal from the President of the Italian Republic for the outstanding quality of its "Made in Italy" production.
Binns of Williamsburg prides itself in purveying unique and upscale merchandise from around the world since the 1920s, and is located on Duke of Gloucester Street in Williamsburg, Virginia. Binns is pleased to add these timeless pieces of art to their holiday home merchandise selection. The public has also strongly expressed their gratitude for this incredible addition. Binns has invited La Scarabattola artisans to visit Williamsburg for in-store demonstrations and signing for the next holiday season! Rejoice angels on high. Prices for angel and figures start from $1,150.