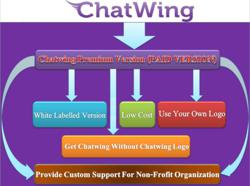 San Francisco, CA (PRWEB) December 23, 2012
Marketing for Facebook pages is one of the most common activities in the online arena nowadays. Based on professional research, people visit Facebook pages everyday, and they often engage in entertaining discussions about certain niches. The Chatwing Development Team has recently introduced a chat widget that can be used as a Facebook page marketing tool. The Chatwing app focuses on simplicity and wide range of customization options.
Chatwing's chatbox provides 100% global connectivity in just seconds. This is the reason why many Facebook page marketers have relied on it. According to some Facebook page marketers, their pages gathered a high online presence and visitor rate in just few days of Chatwing app usage. A single Chatwing chatroom can also accommodate thousands of users from various places around the world.
Chatwing app also allows background image upload option. With this, Facebook marketers can establish their brands while engaging their clients and visitors. Since it has been proven that images play an important role in marketing and branding, Facebook page marketers can benefit a lot from this option. There is also an MP3 upload option, so visitors can listen to music while engaging in interesting discussions. Chatwing's developers are also planning to add an admin playlist option to the chat box.
The Chatwing shout box has already helped many Facebook users in the past. Group makers were able to communicate effectively with their members through the Chatwing app. Other than that, Facebook gamers were also able to find new neighbors that can make their games enjoyable.
About Chatwing.com
Chatwing.com specializes in the new field of website chat. Over years, the Chatwing team has introduced live chat widget for hundreds and thousands of blogs. The Chatwing application bridges people from many parts of the world, creating global synergy through the Internet. The shout box can be installed in just seconds, and it can be used for varying purposes such as leisure and Internet marketing. It also allows a user to customize the size, color, and name of the widget.