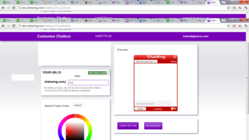 Chicago, IL (PRWEB) December 23, 2012
Chatwing has introduced a new and live chat widget that focuses on the factor of customization. Chatwing's developers have recently observed that many users are looking for applications that offer high rates of accessibility. In this recent chat tool version, users can choose different colors, add word filters, and rescale the widget according to their preferences.
The default color of the Chatwing chatbox is purple, yet other colors also became famous on a short notice. Red Chatwing chatrooms were commonly seen in websites dealing with controversial topics, including global adult chat. Green and blue chatrooms were light-themed, so they were often used in websites related to nature and sustainability. Other Chatwing app colors have become generic, and it all depends on the preferences of website owners.
Chatwing's chat box also allows users to upload one song link of their choice. This is useful in making the chatroom enticing to visitors. Background image upload option is also one of the recent innovations of the Chatwing chat app. With a handy background image, online marketers can benefit a lot from the Chatwing app.
Chatwing's developers have banked on customization to grant a certain edge to thousands of users across the world. The Chatwing chat box is now being used worldwide for various purposes, heightening its versatility and importance. To keep the Chatwing shoutbox efficient as ever, the Chatwing team will introduce more platform developments.
About Chatwing.com
Chatwing.com specializes in the new field of website chat. Over years, the Chatwing team has introduced live chat widget for hundreds and thousands of blogs. The Chatwing application bridges people from many parts of the world, creating global synergy through the Internet. The shout box can be installed in just seconds, and it can be used for varying purposes such as leisure and Internet marketing. It also allows a user to customize the size, color, and name of the widget.