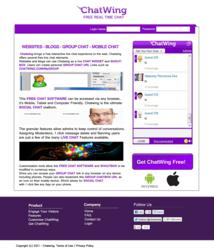 Los Angeles, CA (PRWEB) December 23, 2012
It has been proven for many years that discussions can affect the online visibility of a website or blog. People have been using website chatrooms to share their ideas, sentiments, and opinions. Some are also using the chatrooms to find new friends. With this strong demand, the Chatwing Development Team has launched a new chat widget capable of handling many users simultaneously. The Chatwing app can also improve a website's visibility in just few days of usage.
Chatwing's chatbox brings new innovations to the premise of online chat. In this latest version, Chatwing users can modify the shoutbox so that it will fit their preferences easily. Additionally, the Chatwing shoutbox can also be installed in just few seconds, saving the time of the user. There is a vast selection of colors that can be discovered in the Chatwing chat app. Apart from that, sizes can be scaled and there is also an advanced CSS customization for developers.
The Chatwing Dev Team has also added a background image option to the chat widget. With this feature, the Chatwing chatroom can be used by online entrepreneurs who are undergoing campaigns for their brands. Any background image is possible, and Chatwing has many images to select from.
Users are now expecting the upcoming developments that will be introduced by the Chatwing team. These developments will make the Chatwing chat box more efficient than ever. The upgrades will also keep glitches in check, improving the flow of daily conversations.
About Chatwing.com
Chatwing.com specializes in the new field of website chat. Over years, the Chatwing team has introduced live chat widget for hundreds and thousands of blogs. The Chatwing application bridges people from many parts of the world, creating global synergy through the Internet. The shout box can be installed in just seconds, and it can be used for varying purposes such as leisure and Internet marketing. It also allows a user to customize the size, color, and name of the widget.